USMLE Step 3: Pass Rate, Passing Score, Scheduling, and Registration
CALL 1-832-836-1330 TO REGISTER
The USMLE Step 3 is the final exam leading to a license to practice medicine without supervision. This two-day computerized exam currently has about 500 multiple-choice questions as well as computer-based case simulations (CCS).Step 3 is designed to assess the knowledge and skills of physicians who are assuming independent responsibility for providing general medical care to patients, with emphasis on patient management in ambulatory settings. It is the final examination in the USMLE sequence leading to a license to practice medicine without supervision. The examination material is prepared by examination committees broadly representing the medical profession. The committees comprise recognized experts in their fields, including both academic and non-academic practitioners, as well as members of state medical licensing boards.
USMLE STEP 3 DATES AND PRICING FOR OUR LIVE AND ONLINE PREP COURSE
ONLINE INTERACTIVE USMLE Step 3 Prep Course, Review Course, and 2022 GOLDUSMLE Questions
Our Online INTERACTIVE USMLE Step 3 RAPID REVIEW OR EXTENDED PREP sessions via virtual classroom w/ flexible start and end dates w/ new classes starting every Monday**.
Upcoming USMLE Step 3 ONLINE EXTENDED MCQ+CCS PREP SESSIONS
***For a FREE DEMO please add Skype ID goldusmlereview007
4 Weeks MONDAY- FRIDAY 6PM-11:30 Online & Live Course
4 weeks (20 sessions)
Nov 14- Dec 9 2022
Nov 21-Dec 16 2022
Nov 28-Dec 23 2022
Dec 5- Dec 30 2022
Dec 12-Jan 6 2023
Dec 19-Jan 13 2023
Jan 2- Jan 27 2023
Jan 9-  Feb 3 2023
Jan 16-Feb 10 2023
Jan 23-Feb 17 2023
Jan 30-Feb 24 2023
Feb 6-Mar 3 2023
Feb 13-Mar 10 2023
Feb 20-Mar 17 2023
Feb 27-Mar 24 2023
Mar 6-Mar 31 2023
6 WEEKS MONDAY- FRIDAY 6PM-11:30-Online & Live Course
6 weeks (30 sessions)
Nov 14- Dec 23 2022
Nov 21-Dec 30 2022
Nov 28-Jan 6 2023
Dec 5- Jan 13 2023
Dec 12- Jan 20 2023
Dec 19-Jan 27 2023
Jan 2- Feb 10 2023
Jan 9- Feb 17 2023
Jan 16-Feb 24 2023
Jan 23-Mar 3 2023
Jan 30- Mar 10 2023
Feb 6- Mar 17 2023
Feb 13-Mar 24 2023
Feb 20-Mar 31 2023
Feb 27- Apr 7 2023
Mar 6- Apr 14 2023
8 Weeks MONDAY- FRIDAY 6PM-11:30-Online & Live Course
8 weeks (40 sessions)
Nov 14- Jan 13 2022
Nov 21-Jan 20 2022
Nov 28-Jan 27 2023
Dec 5- Feb 3 2023
Dec 12- Feb 10 2023
Dec 19-Feb 17 2023
Jan 2- Feb 24 2023
Jan 9- Mar 3 2023
Jan 16-Mar 10 2023
Jan 23-Mar 17 2023
Jan 30- Mar 24 2023
Feb 6- Mar 31 2023
Feb 13-Apr 7 2023
Feb 20-Apr 14 2023
Feb 27-Apr 21 2023
Mar 6-Apr 28 2023
16 Weeks MONDAY- FRIDAY 5:30PM-11:30PM
16 WEEKS(90 sessions)
Nov 14- Feb 24 2023
Nov 21-Mar 3 2023
Nov 28-Mar 10 2023
Dec 5- Mar 17 2023
Dec 12- Mar 24 2023
Dec 19-Mar 31 2023
Jan 2- Apr 7 2023
Jan 9- Apr 14 2023
Jan 16-Apr 21 2023
Jan 23-Apr 28 2023
Jan 30- May 5 2023
Feb 6-May 12 2023
Feb 13-May 19 2023
Feb 20-May 26 2023
Feb 27-June 2 2023
Mar 6-June 9 2023
4 WEEKS USMLE STEP 3 ONLINE LIVE INTERACTIVE
INTERACTIVE USMLE STEP 3 ONLINE SESSIONS
(MON-FRI 6-11:30pm)
Discounted to only $1150
Discounted from $2299
6 WEEKS USMLE STEP 3 ONLINE LIVE INTERACTIVE
INTERACTIVE USMLE STEP 3 SESSIONS
(MON-FRI 6-11:30pm)
Discounted to only $1399
Discounted from $2799
8 WEEKS USMLE STEP 3 ONLINE LIVE INTERACTIVE
INTERACTIVE USMLE STEP 3 SESSIONS
(MON-FRI 6-11:30pm)
Discounted to only $1599
Discounted from $3299
16 WEEKS STEP 3 ONLINE LIVE INTERACTIVE SESSIONS
INTERACTIVE USMLE STEP 3 SESSIONS
(MON-FRI 6-11:30 PM)
Discounted to only $2999
Discounted from $5999
4 WEEKS LIVE STEP 3 LIVE IN PERSON INTERACTIVE SESSIONS
INTERACTIVE USMLE STEP 3 ONLINE SESSIONS
(MON-FRI 6-11:30pm)
Discounted to only $1399
Discounted from $2699
6 WEEKS USMLE STEP 3 LIVE IN PERSON CTR PREP INTERACTIVE
CENTER PREP IN PERSON USMLE STEP 3 SESSIONS
(MON-FRI 6-11:30pm)
Discounted to only $1600
Discounted from $3399
8 WEEKS USMLE STEP 3 LIVE IN PERSON CENTER PREP INTERACTIVE
INTERACTIVE USMLE STEP 3 SESSIONS
(MON-FRI 6-11:30pm)
Discounted to only $2250
Discounted from $4499
16 WEEKS STEP 3 LIVE IN PERSON CTR PREP INTERACTIVE SESSIONS
INTERACTIVE USMLE STEP 3 ONLINE SESSIONS
(MON-FRI 6-11:30 PM)
Discounted to only $3450
Discounted from $6900
CALL 1-832-836-1330 TO REGISTER
keyboard_arrow_leftPrevious
Nextkeyboard_arrow_right
USMLE Step 3 Video Testimonials
Step 3 content reflects a data-based model of generalist medical practice in the United States. The test items and cases reflect the clinical situations that a general, as-yet undifferentiated, physician might encounter within the context of a specific setting. Step 3 provides a final assessment of physicians assuming independent responsibility for delivering general medical care.
The Step 3 examination devotes attention to the importance of assessing the knowledge and skills of physicians who are assuming independent responsibility for providing general medical care to patients. The first day of the Step 3 examination is referred to as Foundations of Independent Practice (FIP), and the second day is referred to as Advanced Clinical Medicine (ACM).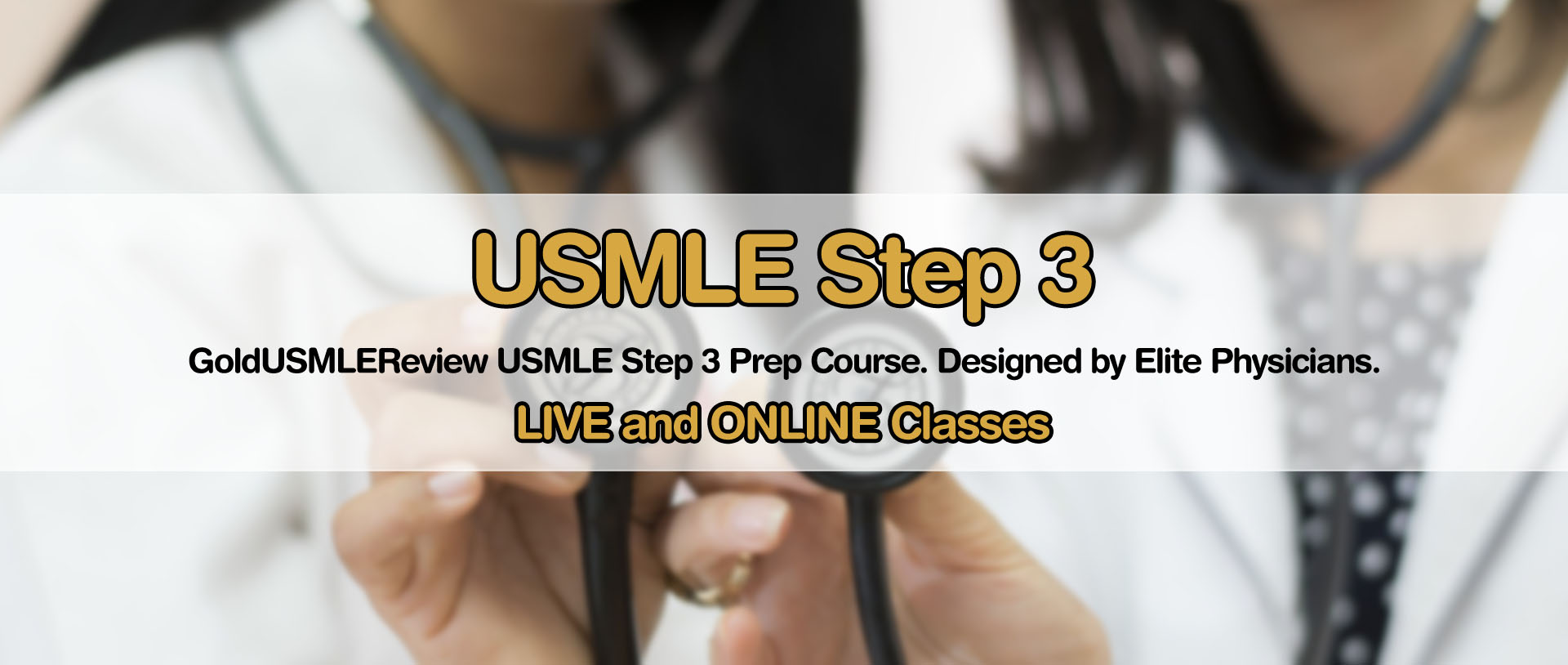 How to study and plan for Step 3 exam prep:
1. Realize that USMLE Step 3 is not like the others.
Step 3 is different from the other components of the USMLE in many ways. As a result, preparing for it requires a tailored approach that may not be the same as what you utilized for Step 1 or Step 2 CK.
First of all, the exam is divided into two separate days that can be, but do not have to be, contiguous. The first day consists of your standard multiple choice questions in a timed setting, while the second day is similar but with the addition of clinical cases. The cases cover a variety of clinical scenarios from emergency, to acute care, to chronic care, and you'll need to familiarize yourself with triage as well as treatment. Overall, Step 3 heavily emphasizes triage and the delivery of care. And of course, don't forget to study ethics and biostatistics.
2. Establish a timeline and a test date.
The first step in any study plan is to develop a timeline to establish boundaries regarding when you plan to take the exam and how much time you will have to prepare.
We must reiterate that leaving an open-ended Step 3 test date is strongly discouraged, as the associated perception that you have an unlimited amount of time to study may lead to inefficiency and procrastination.
Moreover, when you later attempt to book your test date, you may find that the dates previously available are no longer options and you have to defer your exam to later or travel to a distant testing center.
Which dates to select for the exam should be based on consideration of your schedule and when would be reasonable for you to both prepare for the test and have two days off to take it.
Specifically, you should be realistic about when you will have time to study. If you have a series of challenging rotations on which you will be putting in long hours, it's probably not wise to schedule your exam at the end of said block. What would be preferable is to identify a period of time when you may be off or have a lighter workload, during which you may have nights and/or weekends available for studying.
Finally, one last aspect is how you want to schedule the two days relative to each other. Many people elect to take both parts back to back and finish the exam in two days, while others might prefer to have a break in between the days. The decision is personal, though I'd recommend taking a few days in between to recuperate and prepare a bit more for the clinical cases as they are lengthy, have a difficult user interface, and are something you have not yet encountered in your career.
3. Don't neglect practice questions and practice tests.
The single most important component of any study plan is incorporating practice questions. Among qbanks, the best and go-to option is UWorld which, much like it did for Step 1 and Step 2 CK, incorporates the highest-yield concepts into questions with well-written and researched explanations. In fact, this is the best place to start your studying, and you should make it a priority to get through a first pass with reasonable efficiency to afford time to return to these questions and do as much of a second pass as possible. One great advantage to the UWorld qbank is that it accounts for, and will test you on, the higher-level ethics and biostatistics questions that you will encounter in the first test day.
If you finish UWorld once, or even twice, and have time remaining in your study period, you may be looking for more questions. GOLDUSMLE offers newer question sets that we cover during classtime and we also offer Step 3-specific questions through which you can work. The Goldusmle questions covered during class tend to be slightly more challenging and more realistic in difficulty to the exam in that we require you to pick up on minute details in longer vignettes in order to arrive at the right answer.
Regarding practice tests, your choices are the same as they were for the previous board exams and specifically are the NBMEs and UWorld Self-Assessments. It is worthwhile to at least do the latter and then consider also purchasing the former as time permits. While these tests will result in a three-digit conversion of your raw score, you should note that they are not full-length and only cover concepts tested in the multiple choice components on the exam days; they do not incorporate the CCS component which you will have to practice separately as described below.
4. Buy a textbook to assist your Step 3 studying.
Regarding textbooks for Step 3, much like Step 2 CK, a single stand-alone textbook does not exist as the go-to resource in the way that First Aid is for Step 1.
To that end, there is no single option that you should feel compelled to use. One textbook that is worth looking into is First Aid for the USMLE Step 3. While it's not realistic or practical to read this or another similar resource from cover to cover, one way that it may be incorporated is by using it as a secondary resource to take a deeper dive into certain topics you self-diagnose as areas of opportunity.
For example, if you feel like you are consistently getting questions about the indications for different classes of antiarrhythmics wrong and, despite the question explanations, still do not have a clear framework for how to think about these medications, it may be worthwhile to review this section in the textbook you choose. What is not necessary or advisable is spending excess time reviewing the entire cardiology chapter to relearn concepts with which you already felt comfortable.
5. Use computer-based case simulations.
A unique aspect of Step 3 is the Primum® Computer-based Case Simulations (CCS) component of the exam. While the multiple choice components of Step 3 may be very similar to what you had experienced on Step 1 and Step 2 CK, this part will be very different. The single most important recommendation for approaching these cases is to become familiar with the software and how you will be timed and scored.
Specifically, on the day of the exam, you will be presented with thirteen cases which start with a brief patient vignette including whether the context is an emergency department or an outpatient clinic and routine vitals signs. It is then your responsibility to perform a physical examination and begin to order diagnostic tests and begin to develop a therapeutic plan.
As you work through these cases, there are two simultaneous clocks running. One clock counts down how much real-world time you have remaining in the simulation which generally starts at ten or twenty minutes. The other clock moves forward in simulated time to correspond to the evolution of the condition of a patient.
If this seems confusing, you should rest assured that it is not intuitive for most people. However, for that reason, it is all the more important to do the practice cases within the UWorld interface to develop dexterity with placing orders in this simulated context and hone your clinical reasoning. If you finish these with time to spare, there are so-called printable cases that walk through additional examples so that you can continue to familiarize yourself with the rubrics with which you will be scored.
When should you take USMLE Step 3?
In short, Step 3 is not the same as Step 1 or Step 2 CK and therefore requires a specialized approach. While practice questions and supplementary textbooks remain the backbone of tackling the multiple choice questions, handling the CCS cases and the logistics of having the test span two days create added levels of complexity to the testing experience.
Success with Step 3 requires confidence, dedication, and time. Create a timeline and gather your resources and then get started. Check out our USMLE Step 3 Prep Course and other blog posts for a detailed study timeline, resources, and contact us if you have any questions. We're always here to help!
Our Online LIVE INTERACTIVE USMLE Step 3 sessions will take place via our virtual classroom.
You will be sent a private link to your email to access the virtual classroom.
GOLDUSMLE USMLE STEP 3 LIVE ONLINE RAPID REVIEW AND QUESTION BASED REVIEW WILL COVER ALL NEW 2021 CHANGES IN PROTOCOL
WRITTEN TESTIMONIALS
keyboard_arrow_leftPrevious
Nextkeyboard_arrow_right
I had joined Gold USMLE step 3 classes and i even passed the exam. Dr. Thomas and Dr Tarik offer the classes in which they gave us an idea on how step 3 exam is conducted, what can we expect from day 1 and day 2 of the exam. They helped me with the topics which are difficult to understand and helped me prepare for the CCS and biostats part of the exam as well. I can say that the course instructors have great knowledge and were very helpful. I would recommend this classes for people who want to prepare for their exam in a short time and get a good score.
-Dr Tejal Rana, MD
I scored high on my STEP 3 . I would like to strongly recommend GOLDUSMLE REVIEW FOR HELPING ME PASS MY STEP 3 exam.
The questions were extremely high yield for my exam and helped me push through the difficult blocks. The sessions were highly informative and covered all the topics necessary for the exam in an organized and succinct Manner.
Dr Anand Krishnan, MD
I used the GOLDUSMLE FOR the 8 weeks course and it was a quick fix for my exam. Step 3 content was excellent to supplement going through practice questions when studying for Step 3, and it really helped me to go through specific topics from start to finish when I got questions on them. It also helped to see additional questions that might pop up with the various topics! The course instructors were extremely dedicated to include the most up to date information on these topics, which helps when trying to decide which resource is most correct when studying.
Dr. Frank G., MD
I don't think I would have passed my step 3 without Dr Thomas + Dr Tarik's help in Biostats and high yield review on CCS. He teaches us how to approach MCQ, and do them quicker as well as reviewing all the high yield material.
Dr Thomas and Dr Tarik were very knowledgable and they really cares about ther students passing. I took an 8week live online course 7-12pm and then 5pm-9pm every day. And they I paid for private sessions 2 weeks before my exam to focus on my weaknesses. Thank God for him!
I would highly recommend this course.
Dr. Debbie Ramirez, MD
I took the step 3 course and it helped me understand the general concepts as well as have a broader overall knowledge of step 3. The CCS review for 10 min and 20 min cases were the best. This is the best move I have made while preparing for USMLE. This is a 6 week course but even after the course ends, you can sit in on the classes again to review topics you are having trouble with (I did with a couple of IM topics). The course goes over the principles in a high yield fashion and towards the end of class, there is a review of Step 3 questions.
I highly recommend the course as the instructors are very knowledgeable and will get you through all the relevant information.
Dr. ARNIKKA RUBIA, MD
GOLDUSMLE really helped me excell in my recent step 3 exam. The program really helped me focus on highest yield material and gave me excellent test taking strategies that was utilized on the exam. Tariq the instructor for step 3 goes above and beyond the call of duty to ensure that students understand the content. He also helped with the CCS cases in that he helped by giving a roadmap to approach all the cases. For someone who is not in the clinical setting currently, Tariq made the ccs cases easy regardless of 10mins or 20 mins cases. I HIGHLY RECOMMEND GOLD USMLE to anyone studying for USMLE step 3.
DR TITI ADEFALU, MD
PASSED MY STEP 3 exam with a high score, I am very happy with my results and I would like to thank goldusmlereview for helping me get through it, I improved my scores on UW thanks to the goldusmle teaching and tips. They helped me excel and gave me the correct steps for each CCS case 10 min +20 min, it was very effective and much better than other courses. I found the sessions to be very helpful and productive. I was able to finish all the MCQ and CCS cases ahead of time. I strongly recommend goldusmle they saved my career.
DR RAVNEET DHALIWAL, MD
Excellent review course for step 3 overall. Especially for the residents who have limited time for study prep. The course is structured to cover the high yield material and the instructor perfectly reviews the biostatistics, basic sciences, and ccs in as less as 4 weeks. I highly recommend this to anyone who is seeking an interactive rapid review course.
Dr. Thashi Uppalapati, MD
I would like to strongly recommend the GOLDUSMLE 8 weeks STEP 3 program. I would like to thank everyone on the GOLDUSMLE staff for helping me through this step 3 exam. I am very happy with my score. The questions were very long but I got through it and finished each block on time. It is very difficult to wear a n95 mask the whole time, I strongly recommend bringing multiple masks that are very light. the KN95 is lighter and better.
Dr Catherine Ruth, MD
I feel thankful for this course. I did my step 2CS preparation here and later Step 3 review and interview preparation. Step 3 review was very important for me. I was tired to study alone and without motivation. With this course I learned how to pick the best answers and how to think while doing questions and I had productive hours of study. Thank you Gold!
-Dr Gabriela Piazza Sassi, MD
I scored high on my step 3 thanks to Goldusmle step 3review sessions. It is the perfect review for students that want to brush up the topics just before their exam. I was able to answer the questions on my real exam with a steady pace, and never had to hesitate for any question in each block. You have to be consistent when it comes down to the timing and GoldUSMLE review helped me develop the CCS skills necessary to do well on the modules, and the MCQ review was fantastic. -Dr. Dr. Emilia B. MD
I decided to try GOLDUSMLE step 3 online classes and it was the best choice I made. At Goldusmle, I was able to understand why things worked the way they did instead of memorizing a bunch of random facts. Thanks to Dr. Thomas' teaching style and the tutors' 1-on-1 attention, I passed not only Step 3 but also matched into the program that was close to my home ! GoldUSMLE is the reason I continued medical school and became a doctor.
-Dr. Evan D., MD
Please accept my sincere THANKS to Dr. Thomas and the entire GoldUSMLE step 3 team. It really was a wonderful experience for me and was definitely worth it!
I thoroughly enjoyed the online review sessions, they were very convenient especially with this COVID situation.
-Dr. Maria D., MD
Thank you, Dr. Thomas and staff for all your support and help during what was the most challenging and emotionally trying time for me with the COVID 19 pandemic I was forced to stay home, thank god I was able to learn from you guys.. You gave me the courage to continue and tools to know how to do so. I am happy to say I scored higher than my practice tests on my step 3 exam and I look forward to doing the practice residency interview training with you guys.
-Dr. Ajay J., MD
Two of my best friends took the USMLE Step 3 at GoldUSMLE online sessions. One has passed and the other is waiting for her results. Every time I have the chance to speak to them they tell me how wonderful the program is. I never considered taking a review until 3 weeks ago. I studied on my own and passed Step 2 Then I started studying for Step 3 but something happened & my world flipped upside down – My mother died. Now I can't even look at a book and my concentration is completely gone. I feel confident that your program would help me move forward with my study plans and helped me focus despite the tragedy I experienced.
-Dr. Mark S., MD
I have a student who just came back from your program. She said "I learned tremendous amount in a short period of time!!" This is great! I have been telling students about the program for the MCQs and the CCS . They are always energetic about how to best prepare for the step3.
-Dr. Lyam C., MD
I had a lot of things going on in my life that were preventing me from studying well. I couldn't make any progress. I tried 2 other review courses which turned out to be a waste of time and money. When I heard about GoldUSMLE I was hesitant because I had already spent a fair amount of money. I felt I had few options left and decided to try it because of the small class size and the access to the staff & Dr. Thomas. I was hopeful with the first week and by the second week I had my confidence back. Dr. Thomas' methodology really clicked for me, and he really nailed it when it came to my hang-ups and the staff was always patient & kind. Long story short, I am now in my first year of residency doing well.
-Dr. Parvathy S., MD
Thank you so much for your encouraging words and support. You helped me through the most challenging experience of my life. You gave me the tools that I needed to make it and I know I have what it takes to get through my step 3 exam. I will miss all of the staff at GoldUSMLE. I consider you my friends.
-Dr Danielle M., MD
Thanks to all for reminding me to have confidence in myself. Without Dr. Thomas and his staff, I would not have had the confidence to do well & pass my exam. I will take your influence & powerful concepts with me! Love this program & everyone in it!
-Dr. Daniel S., MD
I had such a positive experience at GoldUSMLE. I have wanted for years to see all the information I have been exposed to in my medical education presented in a cohesive way that would allow me to understand it rather than just simply memorize it. The staff was so friendly, and I could not think of a better place or better people to spend several weeks with. Dr. Thomas was easily the best teacher I have had throughout my years in medical training, and thanks to him I now understand core physiological principles that will allow me to reason through problems. Best of all, I am excited about my education now! Thanks so much to GoldUSMLE and all the staff for a stellar program and experience!
-Dr L .Liu, MD
Thanks again for all the help when I was there. GoldUSMLE is a great program and I have recommended it to my friends. I felt a lot more confident after all the step 3 classes and my test taking skills are at an all time high as it has never been better. It was also very helpful to have the tutors point out where I had problems, it helped me know where to focus. I am still waiting for my results and Im confident that I passed.
-Dr. Kimberly S. MD