DR JULIAN TOKAREV, MD ONLINE REVIEW NOTES EDITOR USMLE STEP 1 STEP2CK STEP3 HOUSTON ATLANTA GOLDUSMLE CENTER
DR MARK LUND, MD ONLINE REVIEW NOTES, CONTENT EDITOR USMLE STEP1 STEP2CK HOUSTON ATLANTA GOLDUSMLE CENTER 
DR YASH SARDA, MD ONLINE REVIEW NOTES EDITOR USMLE STEP 1 STEP2CK STEP3 HOUSTON ATLANTA GOLDUSMLE
DR ANAND KRISHNAN MD ONLINE REVIEW NOTES EDITOR USMLE STEP 1 STEP2CK STEP3 HOUSTON ATLANTA GOLDUSMLE CENTER
DR G. EGORYAN MD ONLINE REVIEW NOTES EDITOR USMLE STEP 1 STEP2CK STEP3 HOUSTON ATLANTA GOLDUSMLE CENTER
DR A. ARIF MD ONLINE REVIEW NOTES EDITOR USMLE STEP 1 STEP2CK STEP3 HOUSTON ATLANTA GOLDUSMLE CENTER
DR JOHN THOMAS, MD ATLANTA HOUSTON GOLDUSMLE CENTER – USMLE STEP 1 STEP2CK STEP3 GOLDUSMLE INSTRUCTOR
DR DELIANA PEYKOVA, MD Medical Student Evaluator New York/ ATLANTA GOLDUSMLE CENTER USMLE STEP 1 STEP2CK STEP3 GOLDUSMLE INSTRUCTOR
DR TARICK HADAYA, MD HOUSTON ATLANTA GOLDUSMLE CENTER STEP 1 STEP2CK STEP3 INSTRUCTOR
DR. T. STEVENS, MD HOUSTON ATLANTA GOLDUSMLE CENTER STEP 1 STEP 2CK STEP 3 INSTRUCTOR
DR  J.C. THOMAS, MD ATLANTA HOUSTON GOLDUSMLE CENTER – USMLE STEP 1 STEP2CK STEP3 GOLDUSMLE INSTRUCTOR
USMLE REVIEW COURSE GENERAL PRINCIPLES
Our USMLE Step 1 Practice Question sets helps you recognize how to approach a multiple choice question, how to analyze it and break it down. A number of diseases have similar symptoms and presentation. When solving a question set, practicing under pressure is essential to learn time management skills. In the USMLE exam, questions are not given in a systematic way, so you should practice them as much as possible.
USMLE Step 1 is based on applying the right concepts in clinical situations. Your course instructor will make you understand your mistakes made on the practice questions will help you realize the correct solutions. Thus guiding you to correct your mistakes and helping you overcome your weaknesses in time for your exam.
Online and Live USMLE Step 1 Questions Based Review Course
Rapid High Yield Review of USMLE Step 1 materials, MCQ analysis, and Elaborate Explanations of all subject materials from the Basic Sciences. Our online or live USMLE Step 1 Question based rapid review course will emphasize MCQ mastery and high yield 2021 lecture content to reinforce the MCQ sets. Here we will explain the USMLE Step 1 course content outline and breakdown. Our review will cover all of the following topics.
BIOCHEMISTRY
BIOSTATISTICS AND EPIDEMIOLOGY
ANATOMY
EMBRYOLOGY
HISTOLOGY
PHYSIOLOGY
PATHOPHYSIOLOGY
PATHOLOGY
PHARMACOLOGY
NUTRITION
GENETICS
IMMUNOLOGY
BEHAVIORIAL SCIENCES
CELL BIOLOGY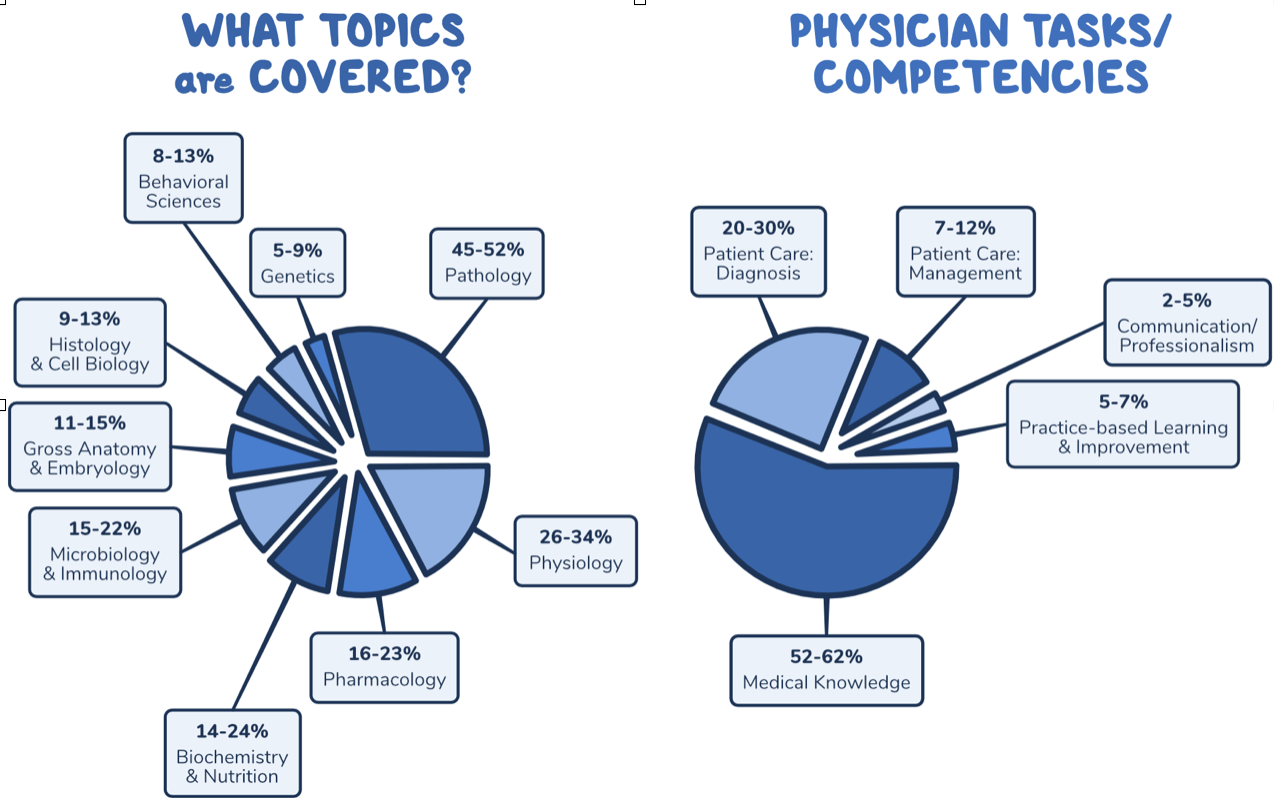 General Principles
Blood & Lymphoreticular/Immune Systems Behavioral Health & Nervous Systems/Special Senses Musculoskeletal, Skin & Subcutaneous Tissue Cardiovascular System
Respiratory & Renal/Urinary Systems Gastrointestinal System
Reproductive & Endocrine Systems
Multisystem Processes & Disorders
Biostatistics & Epidemiology/Population Health Social Sciences: Communication Skills/Ethics
NOTE: All of our GOLDUSMLE Step 1 Prep Courses have over 99% Success Rate with our 2020 Student pool.
Sessions available each Month with Classes running from Monday through Friday from 9:30am – 4:30pm ONLINE VIA VIDEO CONFERENCING OR IN PERSON AT OUR CENTERS IN HOUSTON OR ATLANTA.
Space is Limited per Session to provide an exceptional experience to each student so it is recommend to register early to ensure you get a spot in your desired session.
Complete LIVE IN PERSON Step 1 Prep In Just 8 Weeks or 13 Weekends With An Over 99% Student Success Rate
Comprehensive Lectures Created By MDs
Exclusive Multiple Choice Questions Tied to Each Core Lecture
Coverage & Analysis of Over 1500-3000+ In-Class Practice Questions
High-Yield GOLD Drill Series
USMLE Question Breakdown Tutorials & Strategies
High-Quality Charts, Images, Graphs, etc.
Limited, Small Class Sizes for 1-on-1 Interaction
Question-based instruction online and live in person – High Yield
Addressing high yield concepts through several question sets, while understanding and applying the concepts to the question
Covering 20-80 Question set coverage
High Yield Commonly Tested Questions daily
Thorough question review, in which each student is given the opportunity to uncover and digest content for their exam.
Step 1 Preparation: Maximize Score with High Yield Notes & Lectures
We help students with our Premium USMLE Step 1 preparation course. We teach you how to prepare for step 1 exams based on a 4-8 week or 13 weekend dedicated study period. We help our students follow the NBME testing pattern. You may require a daily 12 hours study schedule to maximize your score.
*NOTE THESE FEATURES ARE FOR THE LIVE CENTER PREP COURSE NOT THE ONLINE COURSE.Our USMLE Step 1 preparation course is divided into videos, high yield pdf notes, high yield lectures, book reading, solving questions from Question sets with USMLE /NBME standards, and guidance sessions supervised under the best clinical course instructors.
What sets this program apart?
*NOTE THESE FEATURES ARE FOR THE LIVE CENTER PREP COURSE NOT THE ONLINE COURSE.
DELUXE QUESTION SET REVIEWS,
HIGH QUALITY OF TEACHING w/ MAXIMUM INTEGRATION OF CONCEPTS
SUPPORT EACH DAY TO PUSH YOU TO YOUR GOALS ONLINE VIA SKYPE OR ZOOM CONFERENCING. PLEASE ADD SKYPE Id GOLDUSMLEREVIEW007
AMG and IMG Medical schools refer students to this program.
NBME Shelf Subject Exam coupons provided for live classes only to be used in the center, with performances reviewed every 15 days
Highly competent and accomplished teachers provide a kind, caring, and nurturing environment
The live center is open in Houston, Texas, and Atlanta, GA from 9 :30AM to 9 PM, sessions last from 9:30 AM- 4:30 PM Monday-Friday AFTER 4:30 PM students can use the facility to read practice, and dialogue with others. The facility has extensive functional features including; lecture hall, examination study rooms, a computer lab, and classrooms.
Rolling start datesCK
Complete workshop in either 8 weeks, or 13 weeks course based on your preference.
Flexible Start Dates -Enrollment for the course happens every Monday
General Info- USMLE step 1 (Prometric Center, Passing score, Scheduling,Practice Question Sets)The USMLE Step 1 exam is an analysis of the student's ability to utilize basic science and general knowledge for providing patient care. The test content is centered around physician's task and disease analysis. It is usually taken by students in the 3rd year of their medical school.Students from U.S medical schools can register through NBME Licensing Examination Services for USMLE and students from medical schools out of U.S/ Canada can register through ECFMG. After registeration contact the USMLE step 2 ck Prometric tests centers to finalize your exam schedule.The Step 1 is a 9 hours long exam which is divided into 8 blocks. Each block consists of 46 questions to be done in 1 hour. USMLE Step 1 passing score is 209. The questions are arranged randomly and the candidate must have a strong command over all subjects.The questions included in step 1 follow single best answer and single answer matching formats. The questions center upon diagnosis and treatment of different diseases. Step 1 questions sample and remembered questions are easily available on different websites.
USMLE Step 1 Registration and Prometrics
When you decide to attempt your Step 1, the first step is to get registered with the ECFMG. The candidates can register online through the ECFMG official website. They will send an ECFMG identification number through email. Then you can submit them a Form186 which is signed by a Dean or Notary Service.
The application process usually takes two weeks after submission. The ECFMG verifies your level of medical education and other documents. The eligible candidates are then registered for the USMLE exams. You can also register through USMLE Step 1 Prometric official websites. You can schedule your exam easily with Prometric.
With a strong emphasis on identifying KEYWORDS in case vignettes GoldUSMLE review will help you attain your desired test score. Our experienced GoldUSMLE faculty have several years of teaching experience in the field and will help bring out the best in you for your USMLE exam. The increasing difficulty matching in today's healthcare environment, just passing the Step 2 CK is not enough. Students must strive to earn top scores on their exam in order to distinguish themselves from competing students during the match. Program Directors mainly have a cutoff test score point when it comes offering interviews to candidates or placing them on rank order lists. By taking the GOLDUSMLE's Online Step 2 CK Preparation Program, you will master the skills required to pass the exam and, more importantly for matching purposes, obtain a top score. By taking the GOLDUSMLE Online Step 2 CK Preparation Program you will master the skills required to pass the exam and score high on your first attempt, thereby guaranteeing that your time, money, and investment in your future was not wasted away.
Most of the students prefer USMLE Step 2 CK online Live In person classes before they attempt the actual exam. USMLE Step 2 CK practice tests are an efficient way to remember all signs and symptoms related to a particular medical condition.
The USMLE Step 2 CK practice exam is an effective way to identify your weakness. Therefore, you should take the exam containing sample questions at least two months before your Step 2 CK exam.
USMLE Step 2 CK cases emphasize on health promotion and disease prevention and are administered as multiple choice questions.
Step 2 CK Tips and Secrets: How to Study
Here are a few tips and secrets for passing Step 2 CK.
Better to get it done earlier in the fourth year
Study hard during clerkship
Design a proper study plan according to the time you have for preparation.
USMLE Step 2 CK LIVE and ONLINE Classes
Our GOLDUSMLE Step 2 CK live and online classes enables you to master difficult clinical situations and still remain confident in your management approach. We provide these live classes for students from USA (New York, Florida, Georgia, Massachusetts, Chicago, Pennsylvania etc) who can attend our workshops that are held in either Atlanta or Houston GoldUSMLE center. Whereas Online classes are for students from USA, Canada, India, China, Europe, Australia, Dubai, Asia, Africa, in short the rest of the world.
Many students in preparation for Step 2 CK feel the key to mastering the exam is through algorithms of management. This could not be further from the truth and would be a dangerous interpretation of how to prepare for the board exams. Students are also taught concepts, retention techniques, clinical thinking, and not rote memorization. We provide everything a student needs to succeed and pass the USMLE Step 2 with high scores.
In order to direct the correct test to rule-in or rule-out a disease, you must first derive a set of differentials. These differentials are a derivative from your basic science understanding. Here at GoldUSMLE we ensure you have a concrete understanding of clinical approach and how it applies to the clinical world. This will ensure correct management decisions are made in each and every case through identification of KEYWORDS in CASE VIGNETTES.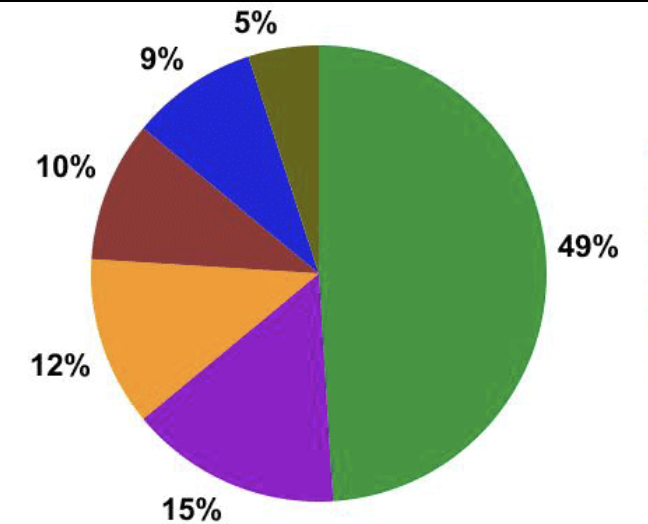 Covered content includes, but not limited to:
Internal Medicine, Obstetrics/Gynecology, Surgery, Psychiatry, Pediatrics, and Preventive Medicine
Internal Medicine
2. Surgery
3. OBGYN
4. Psychiatry/Behavioral
5. Pediatrics
6. High-yield bullet points
7. GOLDUSMLE Questions Copyrighted question coverage
8. USMLE test-taking strategy
9. Detailed USMLE preparation strategy (how to dissect and analyze questions, how to study effectively/efficiently, and how to put all the pieces together in order to achieve your maximum potential)
Step 2 CK vs CS: Best Resources and Preparation Course
Step 2 CK (Clinical Knowledge) tests the candidates for clinical knowledge and the Step 2 CS (Clinical Skills) determines their potential to utilize their clinical knowledge in simulated patient encounters.
Step 2 CK is based on Multiple Choice Questions while in Step 2 CS students are judged for their communication skills, English proficiency and Clinical Encounter capabilities.
We provide the best resources for USMLE Step 2 CK that includes books, notes, Qbanks, flash cards and questions that help students to score high in their exams.
Gold USMLE Review offers live and online USMLE Step 2 CK preparation courses for the candidates from USA, Canada, India, China, Europe, Asia and the rest of the world. No matter if you are from New York, Texas, Georgia, Florida, Massachusetts or away from USA, you can signup for our online classes that will save you traveling time and hotel costs.
USMLE Step 2 CK Prep Course is a 4-8 week comprehensive study guideline for students who want to pass their USMLE exams with high grades. After USMLE Step 2 ck Review Course you will be able to appear in Step 2 CK exam with confidence.
The live and online lectures are taught in a very interactive manner. This means that students are inspired to openly ask questions. This removes the repetitive nature of most programs and their passive learning style.
Lectures are M-F, from approx.MONDAY- FRIDAY (10AM-3PM) EST followed by tutoring and drills with plenty of time left over for self-study. LIVE WORKSHOPS IN ATLANTA AND HOUSTON Facilities closes by 10pm. Saturday classes are from MONDAY- FRIDAY (5PM-10PM EST)
Classes have a lunch break, or restroom/water breaks
INCLUDED SERVICES: (Online or LIVE STEP2CK workshop options
(4 week/6 week/8 week/12 week sessions)
20 sessions- 4 weeks LIVE OR ONLINE course
30 sessions- 6 weeks LIVE OR ONLINE course
40 sessions- 8 weeks LIVE OR ONLINE course
60 sessions-12 weeks LIVE OR ONLINE course
NBME practice exams
Live Lectures
Group Sessions
GoldUSMLE copyrighted Daily Practice Question Sets Analysis
One-on-One Tutoring Sessions
Step 2 test-taking skill sessions
Unlimited use of the study area and computer lab (during LIVE center hours 10am-7pm)
Live sessions for STEP2CK will take place in our GoldUSMLE Houston GoldUSMLE center.
Online sessions will be conducted via video conference for FREE DEMO please add Skype ID goldusmlereview007
LIVE CENTER PREP -HOUSTON GOLDUSMLE CK workshop will be conducted at
416 N SAM HOUSTON PARKWAY EAST,
HOUSTON, TEXAS 77060
MEDICAL SUITE 416E
https://www.google.com/maps/place/Goldusmlereview/@29.9374956,-95.3980257,17z/data=!3m1!4b1!4m5!3m4!1s0x8640c9e3d3e4ac67:0xa03ae7ed89a9c210!8m2!3d29.937491!4d-95.395837
USMLE Step 2 CK Format, High Yield Notes, Qbank and Flashcards
In our step 2 ck review course, we explain each and everything in details. What is the format of the exam? How many questions it contains? Passing score needed etc.
As explained earlier, the USMLE Step 2 CK is a 9 hours long exam which is divided into 8 blocks. Each block consists of 46 questions to be done in 1 hour. USMLE Step 2 passing score is 209. The questions are arranged randomly and the candidate must have a strong command over all subjects.
You will find plenty of preparation notes for CK Step 2 from us. USMLE Step 2 secrets, Tips, Question Sets, flashcards and notes presented in the Q and A format. Our notes contains diagnosis, treatment and management strategies for solving the vignette style Step 2 exam.
You will receive Gold USMLE Step 2 CK high yield notes from us when you signup for our USMLE Step 2 CK Prep Course. These notes are concise and very helpful when used along with the Question sets. A must use preparatory material to be used one week before exams.
Our Gold USMLE Question sets has more than 2,000 USMLE Step 2 CK practice questions.
Our Online LIVE INTERACTIVE USMLE step 2CK sessions
(with virtual classroom + flexible START AND END DATES)
The USMLE Step 3 is the final exam leading to a license to practice medicine without supervision. This two-day computerized exam currently has about 500 multiple-choice questions as well as computer-based case simulations (CCS).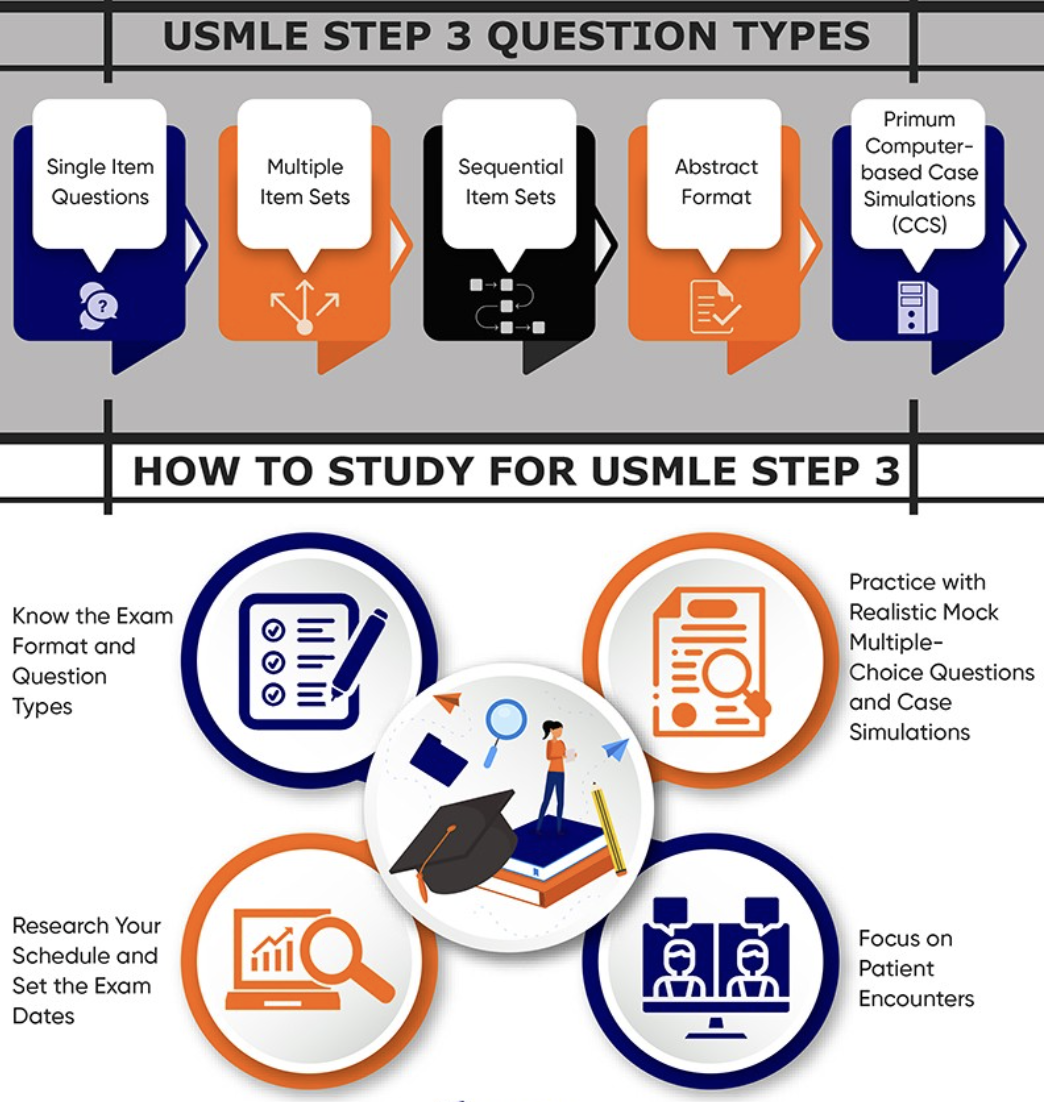 knowledge and skills of physicians who are assuming independent responsibility for providing general medical care to patients, with emphasis on patient management in ambulatory settings. It is the final examination in the USMLE sequence leading to a license to practice medicine without supervision. The examination material is prepared by examination committees broadly representing the medical profession. The committees comprise recognized experts in their fields, including both academic and non-academic practitioners, as well as members of state medical licensing boards.
Step 3 content reflects a data-based model of generalist medical practice in the United States. The test items and cases reflect the clinical situations that a general, as-yet undifferentiated, physician might encounter within the context of a specific setting. Step 3 provides a final assessment of physicians assuming independent responsibility for delivering general medical care.
The Step 3 examination devotes attention to the importance of assessing the knowledge and skills of physicians who are assuming independent responsibility for providing general medical care to patients. The first day of the Step 3 examination is referred to as Foundations of Independent Practice (FIP), and the second day is referred to as Advanced Clinical Medicine (ACM).
How to plan for Step 3 exam prep:
1. Realize that USMLE Step 3 is not like the others.
Step 3 is different from the other components of the USMLE in many ways. As a result, preparing for it requires a tailored approach that may not be the same as what you utilized for Step 1 or Step 2 CK.
First of all, the exam is divided into two separate days that can be, but do not have to be, contiguous. The first day consists of your standard multiple choice questions in a timed setting, while the second day is similar but with the addition of clinical cases. The cases cover a variety of clinical scenarios from emergency, to acute care, to chronic care, and you'll need to familiarize yourself with triage as well as treatment. Overall, Step 3 heavily emphasizes triage and the delivery of care. And of course, don't forget to study ethics and biostatistics.
2. Establish a timeline and a test date.
The first step in any study plan is to develop a timeline to establish boundaries regarding when you plan to take the exam and how much time you will have to prepare.
We must reiterate that leaving an open-ended Step 3 test date is strongly discouraged, as the associated perception that you have an unlimited amount of time to study may lead to inefficiency and procrastination.
Moreover, when you later attempt to book your test date, you may find that the dates previously available are no longer options and you have to defer your exam to later or travel to a distant testing center.
Which dates to select for the exam should be based on consideration of your schedule and when would be reasonable for you to both prepare for the test and have two days off to take it.
Specifically, you should be realistic about when you will have time to study. If you have a series of challenging rotations on which you will be putting in long hours, it's probably not wise to schedule your exam at the end of said block. What would be preferable is to identify a period of time when you may be off or have a lighter workload, during which you may have nights and/or weekends available for studying.
Finally, one last aspect is how you want to schedule the two days relative to each other. Many people elect to take both parts back to back and finish the exam in two days, while others might prefer to have a break in between the days. The decision is personal, though I'd recommend taking a few days in between to recuperate and prepare a bit more for the clinical cases as they are lengthy, have a difficult user interface, and are something you have not yet encountered in your career.
3. Don't neglect practice questions and practice tests.
The single most important component of any study plan is incorporating practice questions. Among qbanks, the best and go-to option is UWorld which, much like it did for Step 1 and Step 2 CK, incorporates the highest-yield concepts into questions with well-written and researched explanations. In fact, this is the best place to start your studying, and you should make it a priority to get through a first pass with reasonable efficiency to afford time to return to these questions and do as much of a second pass as possible. One great advantage to the UWorld qbank is that it accounts for, and will test you on, the higher-level ethics and biostatistics questions that you will encounter in the first test day.
If you finish UWorld once, or even twice, and have time remaining in your study period, you may be looking for more questions. GOLDUSMLE offers newer question sets that we cover during classtime and we also offer Step 3-specific questions through which you can work. The Goldusmle questions covered during class tend to be slightly more challenging and more realistic in difficulty to the exam in that we require you to pick up on minute details in longer vignettes in order to arrive at the right answer.
Regarding practice tests, your choices are the same as they were for the previous board exams and specifically are the NBMEs and UWorld Self-Assessments. It is worthwhile to at least do the latter and then consider also purchasing the former as time permits. While these tests will result in a three-digit conversion of your raw score, you should note that they are not full-length and only cover concepts tested in the multiple choice components on the exam days; they do not incorporate the CCS component which you will have to practice separately as described below.
4. Buy a textbook to assist your Step 3 studying.
Regarding textbooks for Step 3, much like Step 2 CK, a single stand-alone textbook does not exist as the go-to resource in the way that First Aid is for Step 1.
To that end, there is no single option that you should feel compelled to use. One textbook that is worth looking into is First Aid for the USMLE Step 3. While it's not realistic or practical to read this or another similar resource from cover to cover, one way that it may be incorporated is by using it as a secondary resource to take a deeper dive into certain topics you self-diagnose as areas of opportunity.
For example, if you feel like you are consistently getting questions about the indications for different classes of antiarrhythmics wrong and, despite the question explanations, still do not have a clear framework for how to think about these medications, it may be worthwhile to review this section in the textbook you choose. What is not necessary or advisable is spending excess time reviewing the entire cardiology chapter to relearn concepts with which you already felt comfortable.
5. Use computer-based case simulations.
A unique aspect of Step 3 is the Primum® Computer-based Case Simulations (CCS) component of the exam. While the multiple choice components of Step 3 may be very similar to what you had experienced on Step 1 and Step 2 CK, this part will be very different. The single most important recommendation for approaching these cases is to become familiar with the software and how you will be timed and scored.
Specifically, on the day of the exam, you will be presented with thirteen cases which start with a brief patient vignette including whether the context is an emergency department or an outpatient clinic and routine vitals signs. It is then your responsibility to perform a physical examination and begin to order diagnostic tests and begin to develop a therapeutic plan.
As you work through these cases, there are two simultaneous clocks running. One clock counts down how much real-world time you have remaining in the simulation which generally starts at ten or twenty minutes. The other clock moves forward in simulated time to correspond to the evolution of the condition of a patient.
If this seems confusing, you should rest assured that it is not intuitive for most people. However, for that reason, it is all the more important to do the practice cases within the UWorld interface to develop dexterity with placing orders in this simulated context and hone your clinical reasoning. If you finish these with time to spare, there are so-called printable cases that walk through additional examples so that you can continue to familiarize yourself with the rubrics with which you will be scored.
The Bottom Line
In short, Step 3 is not the same as Step 1 or Step 2 CK and therefore requires a specialized approach. While practice questions and supplementary textbooks remain the backbone of tackling the multiple choice questions, handling the CCS cases and the logistics of having the test span two days create added levels of complexity to the testing experience.
Success with Step 3 requires confidence, dedication, and time. Create a timeline and gather your resources and then get started. Check out our other blog posts for a detailed study timeline, resources, and contact us if you have any questions. We're always here to help!
Our Online LIVE INTERACTIVE USMLE Step 3 sessions will take place via our virtual classroom.
You will be sent a private link to your email to access the virtual classroom.
GOLDUSMLE USMLE STEP 3 LIVE ONLINE RAPID REVIEW AND QUESTION BASED REVIEW WILL COVER ALL NEW 2021 CHANGES IN PROTOCOL
EMPLOYMENT OPPORTUNITIES WITH A PURPOSE
The GOLDUSMLE FACULTY empowers promising young individuals, medical students, residents, and attending physicians on their path to educating students of all backgrounds. Alongside educational institutions, GoldUSMLE provides a scalable model to discover, develop, and connect extraordinary, diverse, and driven young people to high-quality skill building, opportunities, and networks. From working with the GoldUSMLE will come a generation of leaders as diverse as our future demands. GoldUSMLE currently operates in Houston, Texas and Atlanta, GA, we also have an online interface where you can work from home. We have open positions for tutors for USMLE Step 1, USMLE step 2CK, USMLE Step 3, and OET. We aim to become the nation's leading accelerator of diverse talent, putting over 25,000 medical students and college students on the pathway to medical school and college completion and economic mobility. Our work environment is very friendly and outcome-driven workforce readiness skills-based proficiency.
Please check the open positions below and contact goldusmlereview@gmail.com with questions.
GoldUSMLE is an equal opportunity employer and considers qualified applicants for employment without regard to race, color, creed, religion, national origin, sex, sexual orientation, gender identity and expression, age, disability, veteran status, or any other protected factor. We encourage talented individuals of all backgrounds to apply.
keyboard_arrow_leftPrevious
Nextkeyboard_arrow_right