USMLE Step 3 CCS: Cases, Tips, Tutorials, Mnemonics and Practice
USMLE Step 3 CCS live and online classes for all. Cases, tips, tutorials, mnemonics, practice question sets and much more designed by practicing physicians.
Step 3 CCS is the Computer-based Case Simulations (CCS), a compulsory part of USMLE Step 3 exams. These case simulations are designed to test the doctor's abilities to independently manage his patients.
Each candidate has to perform 13 Computer-based Case Simulations in total on the second day of exam. 10 – 20 minutes are given to perform each of them.
To score higher grades in Step 3 CCS, it is advisable to go through USMLE Step 3 CCS lectures. These lectures provide guidance on how to handle these cases.
We help students with USMLE Step 3 CCS tips, cases, tutorial, mnemonics, practice and tricks in the USA and all across the world through our Gold USMLE Mnemonics notes in our Step 3 CCS USMLE prep and review courses. Students who use our Step 3 CCS tutorials, tips, cases, mnemonics and practices to approach the simulated cases, perform better as they are less likely to skip important details.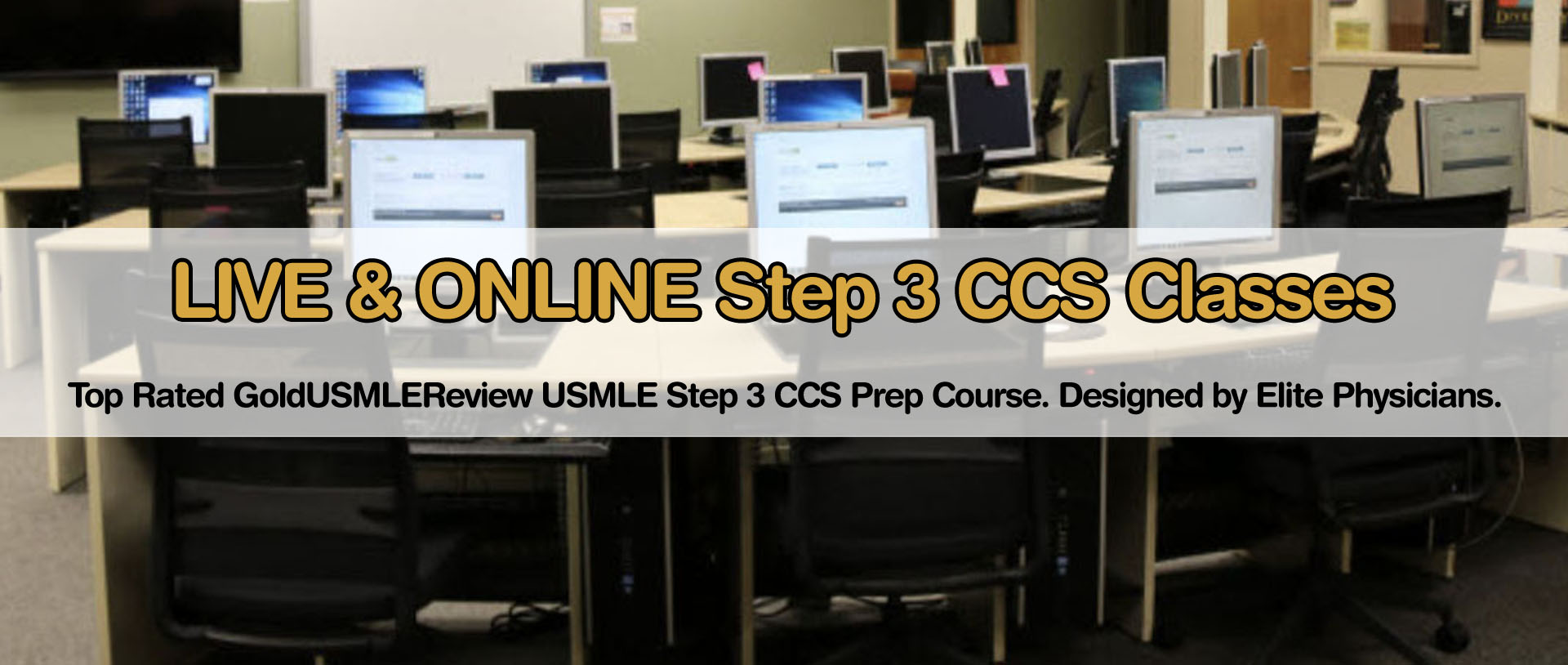 USMLE STEP 3 CCS DATES AND PRICING FOR OUR LIVE AND ONLINE PREP COURSE
***For a FREE USMLE DEMO please add Skype ID goldusmlereview007
***SALE- ALL USMLE COURSES WILL BE 50% OFF
***LIVE IN PERSON STUDENTS WILL HAVE FREE ROOM ACCOMMODATIONS
Step 3 CCS – LIVE OR ONLINE Prep Course, Review Course and Questions (2023 GOLD CK Qbank)
USMLE Step 3 CCS Written Testimonials
GOLDUSMLE really helped me excell in my recent step 3 exam. The program really helped me focus on highest yield material and gave me excellent test taking strategies that was utilized on the exam. Tariq the instructor for step 3 goes above and beyond the call of duty to ensure that students understand the content. He also helped with the CCS cases in that he helped by giving a roadmap to approach all the cases. For someone who is not in the clinical setting currently, Tariq made the ccs cases easy regardless of 10mins or 20 mins cases. I HIGHLY RECOMMEND GOLD USMLE to anyone studying for USMLE step 3.
I don't think I would have passed my step 3 without Dr Thomas + Dr Tarik's help in Biostats and high yield review on CCS. He teaches us how to approach MCQ, and do them quicker as well as reviewing all the high yield material. Dr Thomas and Dr Tarik were very knowledgable and they really cares about ther students passing. I took an 8week live online course 7-12pm and then 5pm-9pm every day. And they I paid for private sessions 2 weeks before my exam to focus on my weaknesses. Thank God for him!
I would highly recommend this course.
I had joined Gold USMLE step 3 classes and i even passed the exam. Dr. Thomas and Dr Tarik offer the classes in which they gave us an idea on how step 3 exam is conducted, what can we expect from day 1 and day 2 of the exam. They helped me with the topics which are difficult to understand and helped me prepare for the CCS and biostats part of the exam as well. I can say that the course instructors have great knowledge and were very helpful. I would recommend this classes for people who want to prepare for their exam in a short time and get a good score.
I took the step 3 course and it helped me understand the general concepts as well as have a broader overall knowledge of step 3. The CCS review for 10 min and 20 min cases were the best. This is the best move I have made while preparing for USMLE. This is a 6 week course but even after the course ends, you can sit in on the classes again to review topics you are having trouble with (I did with a couple of IM topics). The course goes over the principles in a high yield fashion and towards the end of class, there is a review of Step 3 questions.
I highly recommend the course as the instructors are very knowledgeable and will get you through all the relevant information.
PASSED MY STEP 3 exam with a high score, I am very happy with my results and I would like to thank goldusmlereview for helping me get through it, I improved my scores on UW thanks to the goldusmle teaching and tips. They helped me excel and gave me the correct steps for each CCS case 10 min +20 min, it was very effective and much better than other courses. I found the sessions to be very helpful and productive. I was able to finish all the MCQ and CCS cases ahead of time. I strongly recommend goldusmle they saved my career.
keyboard_arrow_leftPrevious
Nextkeyboard_arrow_right
USMLE Step 3 CCS Video Testimonials
keyboard_arrow_leftPrevious
Nextkeyboard_arrow_right
Here are a few USMLE Step 3 CCS tips and tricks that will help you perform well in your final exam.
Practice with a Friend: Take a sample case and practice directly with a companion. This will help in critical thinking and time management required for performing well in Step 3 CCS.
Practice on Software: Practice as much as you can on the Software. Though software may have slightly different features, you will learn effective patient management within restricted time.
With these tips for Step 3 CCS you are likely to perform better in your exam.
USMLE STEP 3 CCS DATES AND PRICING FOR OUR LIVE AND ONLINE PREP COURSE
We provide best USMLE Step 3 CCS cases and tutorials that will get you high scores. We offer both live and online Step 3 CCS classes for students from Houston, New York, Florida, USA, Canada, India, Europe and Asia. In short if you are from USA, you can enroll in our live classes but if you are from outside USA or can not manage to participate in live classes, we have Step 3 CCS online prep course for students from whole world. Our classes/courses contains Step 3 CCS tutorials and USMLE Step 3 CCS Cases. These Step 3 CCS tutorials and cases offer practice through software and by pairing students together to simulate Step 3 CCS cases. Most of the students who experience Step 3 CCS claim that the simulations are challenging but going with practice makes them manageable. These cases are designed to simulate the most common clinical conditions. Rare conditions are not likely to come.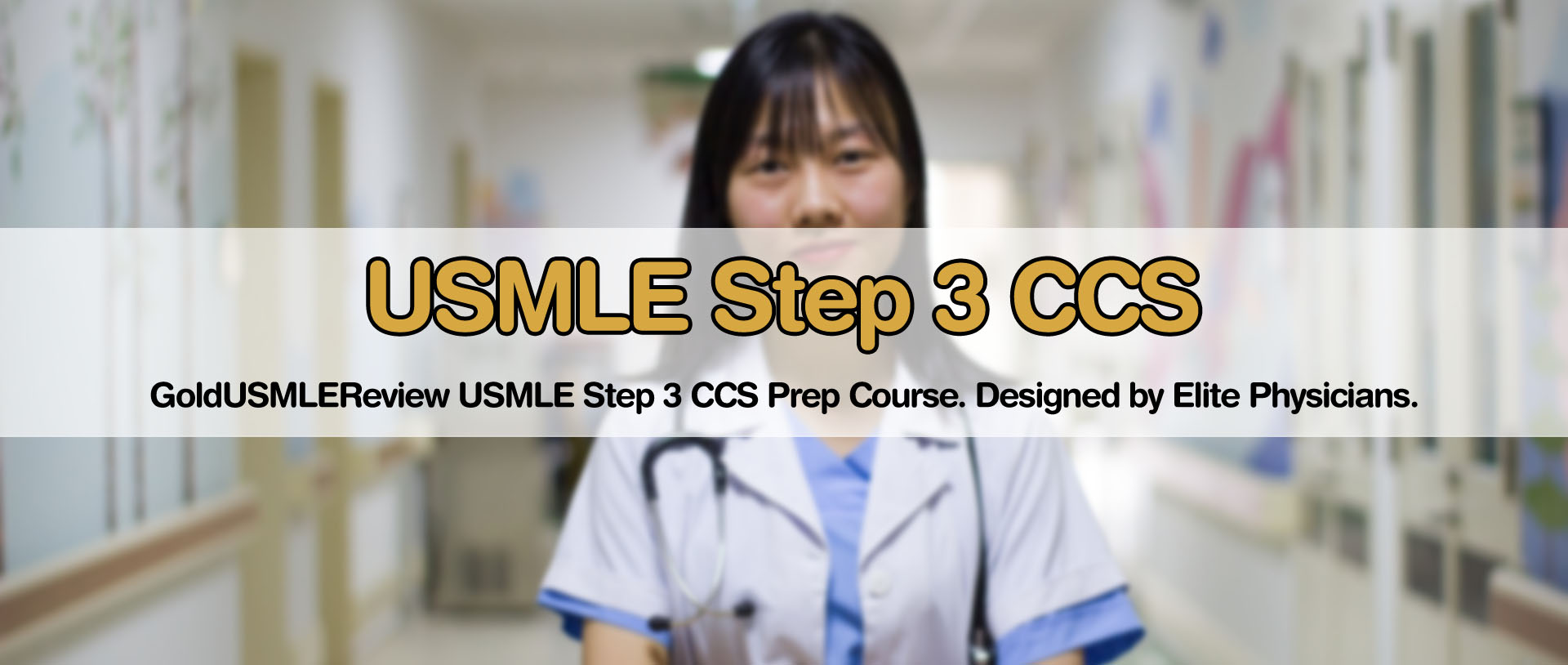 USMLE Step 3 CCS Scoring and Mnemonics
Each case is scored according to how the candidate handles diagnostic orders, preventive care and patient management. The Step 3 CCS scoring is done as "optimal", "sub-optimal" and "poor".
Step 3 CCS cheat sheet are commonly available on the internet and are a helpful tool for Step 3 CCS. Step 3 CCS grading is done on the CCS performance of the students. One CCS equals 2-2.5% of total marks. The CCS score is combined with the score on Multiple Choice Questions to yield the exact result of the candidate.
Step 3 CCS Preparation, Practice and Study Plans
Our Step 3 CCS preparation and practice course features a real time simulator that is identical to the actual exam software. This is our most effective preparation strategy.
In our Step 3 CCS USMLE Prep Course we assess the students and grade them after every solved simulation. Our experienced doctors then give their reviews so that the student can correct themselves.
We have different Step 3 CCS review course packages which feature 50-100 Computer-based standardized case simulations for practice.