USMLE Step 1 Prep Course: Best Step 1 Review Course in the USA
Our USMLE Step 1 prep course is one of the best step 1 review courses in the USA. We provide both live and online classes for USMLE Step 1. Students seeking for Step 1 prep course from New York, Chicago, Atlanta, Houston, or anywhere from USA, Canada, India, Europe and Australia can sign up for our online classes or QBank. In short, you can have access to our online step 1 preparation course that includes lectures, notes and questions set reviews from anywhere in the world.
USMLE Step 1 is a test of medical students from basic sciences they have studied during first two years in medical school including anatomy, physiology, behaviour science, biochemistry etc.
The exam is based on complex, clinical knowledge based questions to be done in total eight hours. GoldUSMLEReview provide comprehensive Step 1 Prep Course and Step 1 Review Course at our workshops (live) and online.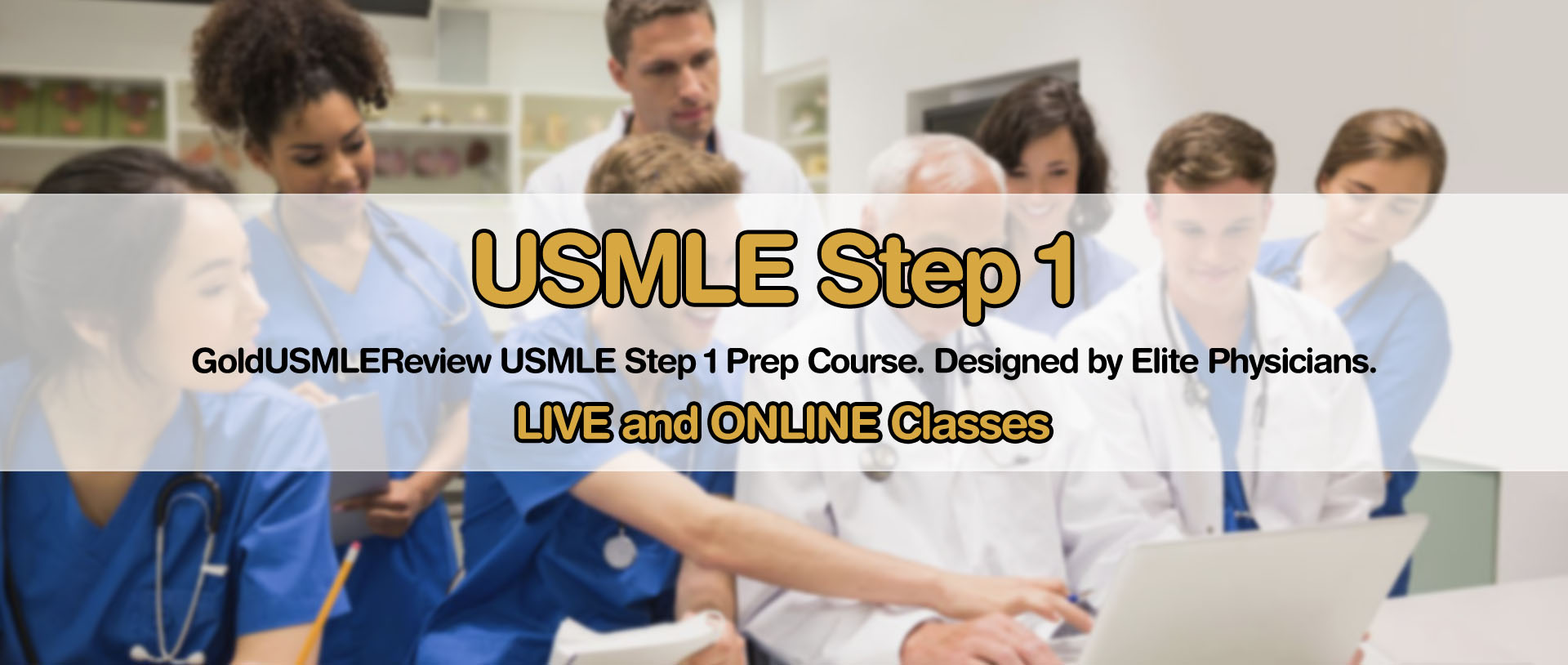 USMLE Step 1 Written Testimonials
I highly enjoyed my experience at Goldusmle. Dr. Thomas had fast-paced reviews, and he made sure emphasize the high-yield material. My weaknesses became my strengths and I was able to pass step 1 on my first try right after finishing the course! I highly recommend taking this class!
I PASSED STEP 1 WITH HIGH PERFORMANCE on my USMLE step 1 and I would like to thank the hard working staff at GoldUSMLE for helping me achieve my goal. I was overwhelmed studying on my own and I decided to seek the GoldUSMLE STEP1 classes. I was lost on my own and didn't know what to focus on before I came to the GoldUSMLE STEP1 class, the review pinpointed me onto the specific high yield points I needed to know, and helped me understand the underlying concepts beneath each question. It solidified my knowledge and allowed me to reach my potential, I ended up scoring alot higher than my NBME practice set thanks to the high quality review. The amount of hours the doctor spent with us going over topics was extraordinary and I appreciate his stamina and dedication to his students. I strongly recommend the GoldUSMLE review for USMLE step 1 prep without hesitation. It saved me alot of time in my preparation and I highly recommend the GoldUSMLE Step 1 class.
Gold USMLE classes with Dr. Thomas saved my life and helped me get through the United States Medical Licensing Exam Step Before I joined Gold Usmle with Dr. Thomas , I had already taken the USMLE step 1 once and failed. I was devastated and clueless one how to go about my career as an IMG. I did not want to give up on medicine as it was my dream to become a doctor in the United States. I came across GOLD USMLE from a friend of mine who had taken the class. I spoke with Dr. Thomas and told him how I had failed my USMLE STEP 1 . He had some amazing reassurance that it was okay and it just meant that I had more time to study my fundamentals as our ultimate aim in the field of medicine is to be a better doctor and not just pass an exam. The way Dr. Thomas teaches is outstanding. We would go through the questions and not only would he talk about why the correct answer was the right answer but he would go through the other answer choices to see why they were wrong. I cannot emphasize how much effort Dr.Thomas puts on his students. He literally trained my mind on how to approach a question. He would walk through the question with us in class step by step. His technique of eliminating the wrong answer choices to get to the answer choice helped me a lot. It gave me more confidence in choosing the right answer. I realized with time as I implemented this approach I was getting more questions right. I saw that when I approached every question with the techniques Dr. Thomas taught us I was able to get my scores up and I was passing my NBMES. Due to Dr. Thomas guidance and skill to approach the questions I was able to pass my USMLE Step 1 the second time around. GOLD USMLE was the sole reason I had the courage and confidence to attempt it the second time around and I passed. The care Dr. Thomas has for his students medical career is inspiring. He puts in all his efforts to make sure we do well. Im so grateful that I was able to learn from Dr. Thomas and GOLD USMLE helped me get through this exam. DR. Thomas is a great teacher that not only teaches us the material but he put in my head that in the field of medicine we have to keep working hard. It is merely not about passing an exam but it is about saving lives.Thank you Dr. Thomas and I recommend this class to anyone who feels lost and needs some guidance. Take this course with Dr. Thomas and I can confidently say this is the best course for USMLE exams. Nothing beats GOLD USMLE. Thank you Dr. Thomas and the GOLD USMLE team.
My name is Eyerusalem Dingamo an IMG and a mother of two little boys. Being a mom of two little boys and preparing for usmle step 1 with a dedicated study hours was hard for me and I was looking for a good program to join and searched online. By just reading the reviews I joined the 8 weeks online program for USMLE step 1. I am glad i did. Dr. Thomas was the best teacher, he made me feel confident in going through all the questions in detail. I strongly recommend this program for everyone who is preparing for the USMLE exams. I am definitely coming back for step 2 CK. Thank you Dr. Thomas and the Goldusmlereview team.
I highly enjoyed my experience at Goldusmle. Dr. Thomas had fast-paced reviews, and he made sure emphasize the high-yield material. My weaknesses became my strengths and I was able to pass step 1 on my first try right after finishing the course! I highly recommend taking this class!
USMLE Step 1 Video Testimonials
USMLE STEP 1 DATES AND PRICING FOR OUR LIVE AND ONLINE PREP COURSE
***For a FREE USMLE DEMO please add Skype ID goldusmlereview007
***SALE- ALL USMLE COURSES WILL BE 50% OFF
***LIVE IN PERSON STUDENTS WILL HAVE FREE ROOM ACCOMMODATIONS
USMLE Step 1 – LIVE OR ONLINE Prep Course, Review Course and Questions (2023 GOLD CK Qbank)
keyboard_arrow_leftPrevious
Nextkeyboard_arrow_right
keyboard_arrow_leftPrevious
Nextkeyboard_arrow_right
Step 1 Prep Course with Latest Questions
99% Success Rate – 24,383 Passing AMG/IMG Students
You can take help from our board of USMLE experts to analyze your clinical knowledge and the level of prep course suitable for you. Identify your weaknesses and then select our GoldUSMLEReview Step 1 Prep Course according to your learning requirements and budget.
Our practice questions are designed by our elite physicians using the best resources. The USMLE Step 1 questions are the clinical presentations of the most common diseases. We teach our students to try to analyze the question and understand what they are trying to ask in that question stem. The best way to approach a question is by the writer's mindset. Another method is by ruling out wrong answers by the process of elimination.
To score higher grades you should understand the Step 1 question format. It is necessary to understand the structure and content of the given questions. The questions are designed in a clinical presentation rather than simple factual knowledge.
Our USMLE Step 1 prep course QBank includes more than 3000 step 1 questions with best answers. In the first phase you can learn all questions and their provided solutions. In the second phase test yourself to know how much you retained from your learning.
USMLE Step 1 Course Content for Live and Online Sessions
General Principles
Blood & Lymphoreticular/Immune Systems
Behavioral Health
Nervous Systems/Special Senses
Musculoskeletal,
Skin & Subcutaneous Tissue
Cardiovascular System
Respiratory
Renal/Urinary Systems
Gastrointestinal System
Reproductive & Endocrine Systems
Multisystem Processes & Disorders
Biostatistics & Epidemiology/Population Health Social Sciences: Communication Skills/Ethics
Basic Sciences
NOTE: All of our GOLDUSMLE Step 1 Prep Courses have over 99% Success Rate with our 2023 Student pool.
Sessions available each Month with Classes running from Monday through Friday from 9:30am –5pm ONLINE VIA VIDEO CONFERENCING OR IN PERSON AT OUR CENTERS IN HOUSTON OR ATLANTA.
Space is Limited per Session to provide an exceptional experience to each student so it is recommend to register early to ensure you get a spot in your desired session.
GOLDUSMLE LIVE CENTER PREP COURSE
Comprehensive Lectures Created By MDs 

– Exclusive Multiple Choice Questions Tied to Each Core Lecture

– Coverage & Analysis of up to 1500-3000 In-Class Practice Questions

– PRE Assessment Exams, AND FINAL ASSESSMENT EXAMS


– High-Yield GOLD Drill Series 

– USMLE Question Breakdown Tutorials & Strategies

– High Quality Charts, Images, Graphs, etc.

– Limited, Small Class Sizes for 1-on-1 Interaction
GOLDUSMLE ONLINE LIVE SESSIONS VIA ZOOM – Question-based instruction, which is geared towards:
Addressing high yield concepts through questions, while understanding and applying the concepts to the question
Covering 30-80 Gold High Yield  questions daily
Thorough question review, in which each student is given the opportunity to uncover and digest content for the test
What sets this program apart?
LIVE ONLINE and CENTER PREP LECTURES THAT ARE NOT PRERECORDED– WE ANSWER ALL OF YOUR QUESTIONS AS WE GO ALONG LIVE.
OUTSTANDING PRISTINE QUALITY OF TEACHING, MAXIMUM INTEGRATION OF CONCEPTS AND SUPPORT EACH DAY TO PUSH YOU TO YOUR GOALS ONLINE VIA SKYPE OR ZOOM CONFERENCING.
AMG and IMG Medical schools refer students to this program
NBME Shelf Subject Exam coupons provided for live classes only to be used in the center, with performances reviewed every 15 days
Highly competent and accomplished MD teachers provide a kind, caring, and nurturing environment
The  live center is open in Houston, Texas and Atlanta, GA from 8:30 AM to 11 PM, sessions last from 8:30AM- 3:30PM Monday-Friday  AFTER 4PM students can use the facility to read, practice, and study with others. The facility has extensive functional features including; lecture hall, examination study rooms, a computer lab, and classrooms.
Rolling start dates: Complete workshop in either 8 weeks, or 13 weeks course based on your preference.
Enrollment for the course happens every other Monday, with Monday start dates.
USMLE Step 1 Study Schedule
Our lectures are based on "High Yield Content". Our subject specialist professors (MDs) will concisely explain all topics that are likely to be asked in your USMLE exam. We also provide notes with reinforcement as supplementary learning resources.
Study time frame:
We divide your preparation time into three units or phases for an effective study time distribution plan:
Consolidation phase:

 

In this phase you will study all topics through lectures, notes and Qbank within a given time frame.
Revision phase: In this phase we will test you through Qbank and simulated exams. You will also master time management skills.
Precision phase:

 

In this phase we help you perfect all your weak areas through continuous guidance. You can take consultation from our specialist doctors.
USMLE Step 1 Preparation: Course, Resources, Notes, and Practice Exams
We excel in USMLE Step 1 preparation and review course and ensure that our students pass their USMLE step 1 with high grades. Here are few distinctive features of our step 1 review course.
Best Instructor Led-Courses
Our faculty of experienced doctors and professors will engage and motivate you through live and online webinars and lectures in New York, Chicago, Atlanta, Toronto, Houston, and anywhere in Unites States, Canada, Asia, Europe, Africa or Australia. Our USMLE Preparation courses are for students from all around the globe.
Attempt our on-demand simulated exams to boost your confidence and identify your weakness. You can discuss your progress and mistakes with our subject experts. You will also learn time management skills through USMLE Step 1 standard test questions.
You will have an opportunity to interact with other medical students from U.S and other countries. This group interaction with students having different knowledge levels is helpful in escalating your learning process.
USMLE Step 1 Study Schedule and Rapid Course for USA and the Whole World
We provide both live and online classes for USMLE Step 1 preparation. Our Step 1 prep course includes Qbank and notes that you can review anywhere, anytime. We also provide USMLE Step 1 preparation plan, tips, secrets, tricks and useful resources (books, lecture notes, videos, flash cards, patient interaction etc) to all of our students. Students and can signup from New York, Houston, NYC, Chicago, Atlanta, Florida, Toronto, all across USA, Canada, India, Australia, Europe and all across the globe for our online step 1 preparation course.
Student Support and Stress Relief
We provide unmatched student support through email and online video calling upon appointment. Feel free to discuss your progress, clarify your confusions and overcome your weakness with our expert doctors. We also provide stress relief for our students.