USMLE Step 2 CK Prep Course: Best Live and Online Review Course
We have the best USMLE Step 2 CK prep course for you. We help you study more effectively, create your own study plans, identify your weak areas and score high in USMLE Step 2 CK exam.
Our step 2 CK prep course provides a complete study guideline regarding content and exam-taking strategies. We offer comprehensive study program including diagnostic tests and self testing methods.
Step 2 CK Prep Course 30 days study plan is a complete study guide for Step 2 CK USMLE candidates.
Lectures, Notes, Videos, Tips and Tricks
We provide links to 200+ hours comprehensive lectures by our expert faculty, distributed in a 6 week program. Each concise lecture concludes on an integrated quiz to make you grasp the concepts. Our video lectures focus on real life clinical scenarios along with explanations and diagrams. They brainstorm you to apply your clinical knowledge on solving the given simulation.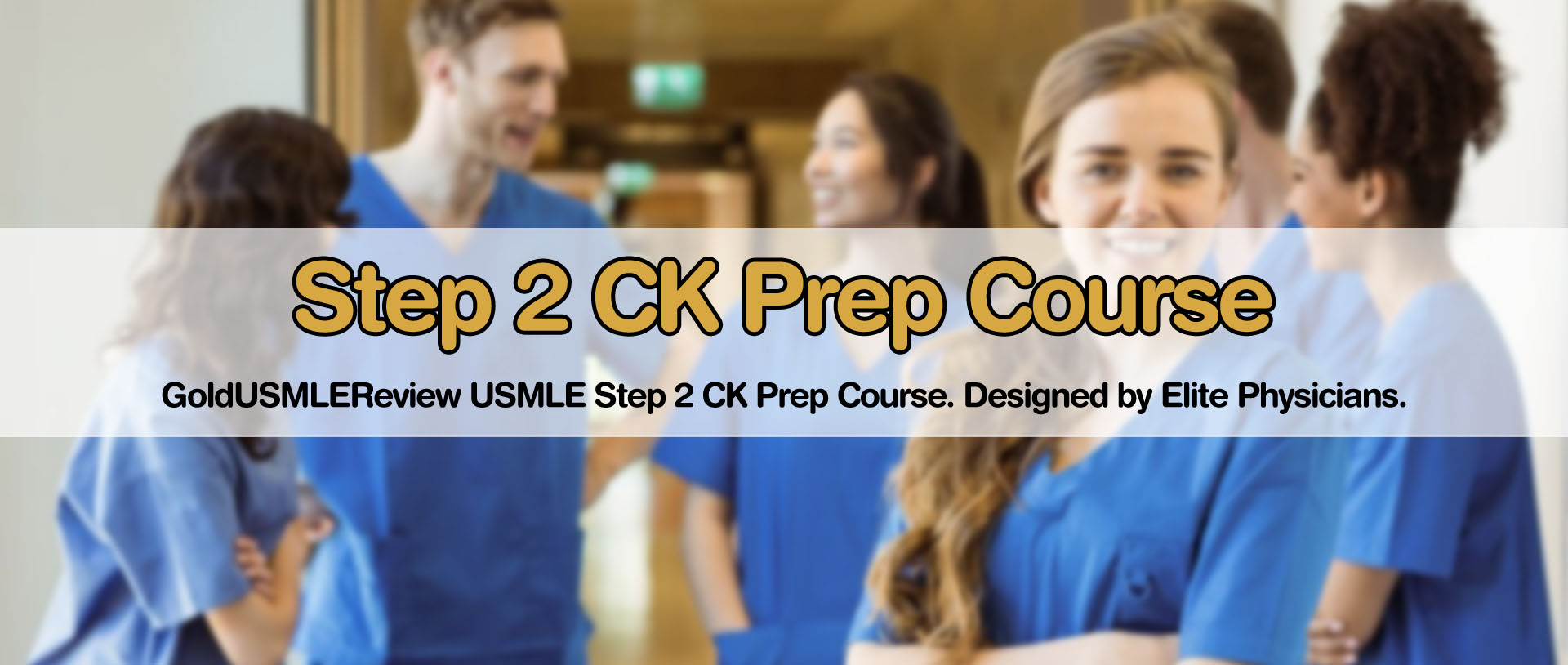 USMLE STEP 2 CK DATES AND PRICING FOR OUR LIVE AND ONLINE PREP COURSE
***USMLE STEP 2 CK TESTIMONIAL- DR SIRI VUMMANNENI WAS THE TOP PERFORMER IN THE STEP2CK COURSE, ENDED UP SCORING A 264 ON HER USMLE STEP2CK EXAM.
For a FREE USMLE DEMO please add Skype ID goldusmlereview007
***SALE- ALL USMLE COURSES WILL BE 50% OFF
***LIVE IN PERSON STUDENTS WILL HAVE DISCOUNTED ROOM ACCOMMODATIONS
Step 2 CK – LIVE OR ONLINE Prep Course, Review Course and Questions (2023 GOLD CK Question Sets)
***USMLE STEP 2 CK TESTIMONIAL- DR NANDANI VADLAMANI- WAS THE TOP PERFORMER IN THE STEP2CK COURSE, ENDED UP SCORING HIGH ON HER USMLE STEP2CK EXAM.
For a FREE USMLE DEMO please add Skype ID goldusmlereview007
***SALE- ALL USMLE COURSES WILL BE 50% OFF
***LIVE IN PERSON STUDENTS WILL HAVE DISCOUNTED ROOM ACCOMMODATIONS
Step 2 CK – LIVE OR ONLINE Prep Course, Review Course and Questions (2023 GOLD CK Question Sets)
***USMLE STEP 2 CK TESTIMONIAL- DR JON VIMMERSTEDT WAS THE TOP MEDICAL STUDENT IN THE GOLDUSMLE  STEP2CK COURSE AND SCORED HIGH ON HIS STEP2CK EXAM.
USMLE Step 2 CK Written Testimonials
This review course was AMAZING. At first, I was nervous because there were so many review courses out there and I did not know which one to pick. Dr Thomas is incredible, he teaches a small group of students at a time and he is open to questions and concerns. Don't worry if you don't understand things at first, because Dr Thomas will take it a step further and go over how to master the questions and how to master the concepts of the high yield topics for the exam. This review was worth every penny and I am so glad I was open enough to take a leap of faith.
Thank you Dr Thomas for being who you are, your kindness goes a long way and it is truly appreciated,…!!! I am a better test taker and doctor because of you…!!!
Dr. Thomas' high yield review for the USMLE step 2 CK was very elaborate and on point, he covered all of the topics for my exam and pushed me to be productive each day. We did questions together each day and he helped me identify my weak areas and made all of my weak areas my strengths. I strongly recommend this review and it was the most affordable crash course for the STEP 2 CK exam. His effort and strong will are unmatched and I have never seen such a dedicated medical professor like him.
Scored 260 on my step2ck thank you for all the help. Gratitude to Goldusmlereview!.it gives me great pleasure to share my experience in this facility, which is a great prep program for students seeking to pass usmle step2 ck exams successfully. thank you so much for all instructors, staff who were nice, excellent, and well organized. I Highly appreciate Dr.Thomas' supervision and instructors who were always encouraging and enhancing students for more learning and experience. I found it the best prep program in Houston . Dr.Thomas was incredibly helpful to the students. accordingly, I got strengthened my clinical communication skills during my intensive course in Goldusmlereview, I highly recommend it to anyone who is preparing for all Usmle's step exams.
Great course ! Left speechless after going through Dr. Thomas's review course for USMLE Step 2CK. What an amazing course with all the high yield information along with the latest and current updates for the USMLE exams. If you are looking for a review series that guides you through each and every step of the way, this is the one to join my fellow colleagues. There was never a dull moment. Every second of the course, my colleagues and I were being engaged the whole time via active learning. I would like to thank Dr. Thomas and his staff for preparing me for all of the three USMLE exams.
I took my Gold USMLE STEP2CK coaching in June 1st week in Houston. My exam was scheduled less than 2 weeks after the GOLD class (for June 18) . Before coming here I had a lot of apprehensions about CK preparation as I came without completing FA. At the end of the first day of class, my mind felt confident enough to work and take the real exam after 2 weeks. All hesitation was kicked out. GOLD is the reason I have passed with flying colours.
The entire team at GOLD was instrumental in this success. The time and energy they put in made sure that they hammered home all the relevant points from IM, PEDS, SURGERY, PSYCH, OBGYN WAS VERY HELPFUL AND PRODUCTIVE. THE ALGORITHMS THEY PROVIDE HELPED ME IMMENSELY.. I could finish all the blocks much before time in the real exam. The Gold USMLE step2ck classes are intensive and well structured so that every point is covered and revised. Dr Thomas is wonderful and his feedback was unmatched. The mock exam gives you the adrenaline rush so the real exam feels like a cakewalk. I strongly recommend taking this course (and mock exam) before jumping into your real exam. I express my sincerest thanks to the entire team and Dr. Thomas.
keyboard_arrow_leftPrevious
Nextkeyboard_arrow_right
USMLE Step 2 CK Video Testimonials
keyboard_arrow_leftPrevious
Nextkeyboard_arrow_right
LIVE and ONLINE Rapid Review USMLE Step 2 CK Examination Course Content
Step 2 CK includes test items in the following content areas:
Internal Medicine
Obstetrics and Gynecology
Pediatrics
Preventive Medicine
Psychiatry
Surgery
Other areas relevant to provision of care under supervision
Most Step 2 CK test items describe clinical situations and require that you provide one or more of the following:
a diagnosis,
a prognosis,
an indication of underlying mechanisms of disease,
the next step in medical care, including preventive measures.
Normal Conditions and Disease Categories
Normal growth and development and general principles of care
Individual organ systems or types of disorders
Immunologic disorders
Diseases of the blood and blood-forming organs
Mental disorders
Diseases of the nervous system and special senses
Cardiovascular disorders
Diseases of the respiratory system
Nutritional and digestive disorders
Gynecologic disorders
Renal, urinary, and male reproductive systems
Disorders of pregnancy, childbirth, and the puerperium
Disorders of the skin and subcutaneous tissue
Diseases of the musculoskeletal system and connective tissue
Endocrine and metabolic disorders
Best Step 2 CK Review Course 2023 – High Yield
Our centers function from Houston and Atlanta in the US. Students from New York, Chicago, Houston, Miami, all across USA, India, Dubai can signup and participate in our online classes and benefit from our QBank. Our best Step 2 CK review course will make you score high enough marks to apply for specialization and residency anywhere in the US.
The outstanding features of our USMLE Step 2 CK live and online review / prep course are as follow:
Video lectures available for both live and online students
Step 2 CK QBank with a large number of questions for practice.
Simulated and diagnostic exams to make sure you perform well in your USMLE.
Comprehensive Step 2 CK lecture notes prepared by our USMLE experienced teachers.
Stress management and time management guiding sessions with USMLE specialists.
Lab facility available for enhanced learning and self study.
Interactive study sessions to guide students on USMLE testing standards.
Why Our USMLE Step 2 CK Prep Course is Best for You?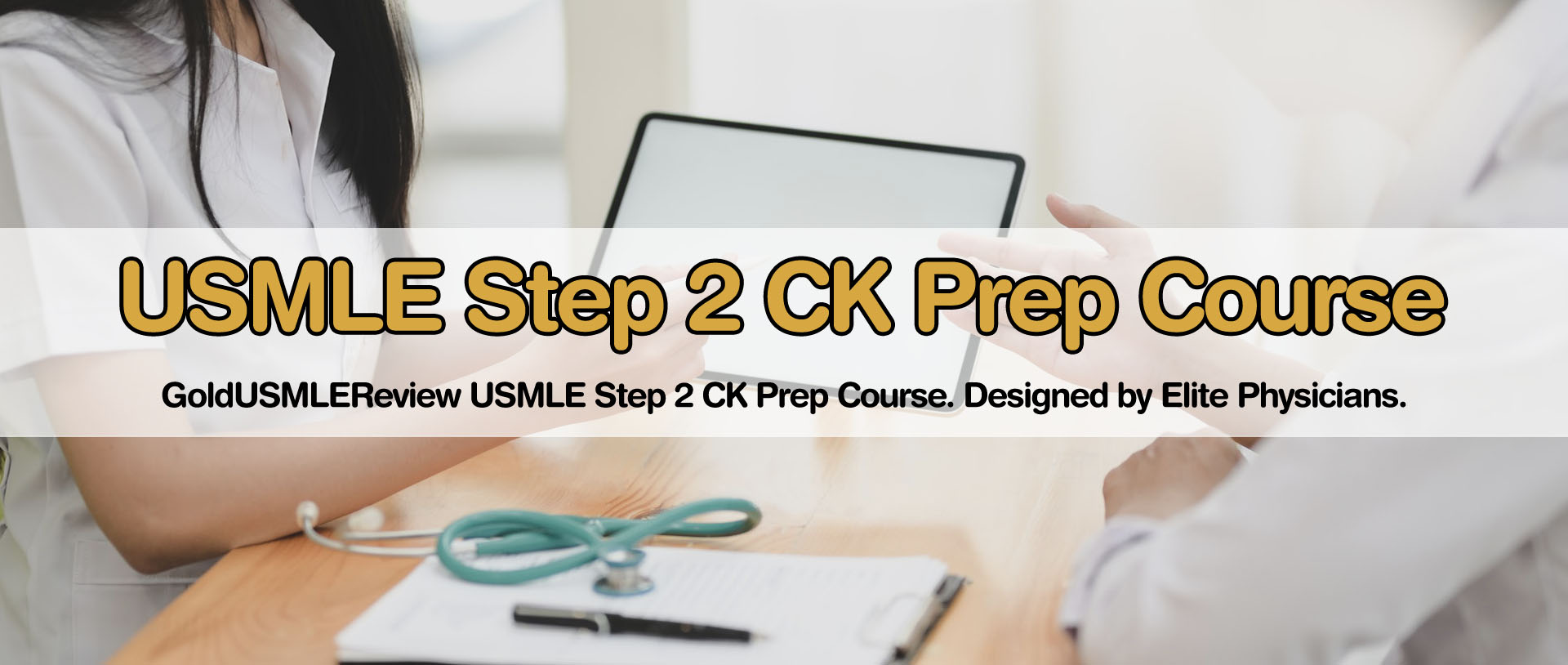 We train and guide you to practice through our lectures, videos and Qbank. Our content is specific to Step 2 CK only. The questions we provide during our Step 2 CK prep course are challenging and can only be answered if you dive in detail and have a clear understanding.
No matter if you are from India, Dubai. Europe, Asia, Australia or anywhere in the USA, our online lectures will help you in preparing and revising all that you had studied over the years. Our course also focuses on time management and utilization of the knowledge in the examination hall. We also provide stress relief for students.
We also provide stress relief for our students. Our Step 2 CK preparation course is a complete package for all students. All of our lectures are live and online.
Step 2 CK Study Plan, Format, Resources, Tutor, QBank, Notes, Videos & Lectures
Our experienced tutors (lecturers / professors) provide complete guidelines, tips and tricks to retain and apply key concepts during exam. They are familiar with all latest USMLE testing procedures, requirements and subjects. They provide detailed explanations for enhanced learning and higher scores, aided by diagrams, charts and flash cards. The live/online step 2 ck review course will definitely help you pass the exam with high performance.
Our Gold Standard USMLE Question sets
We have sessions for solving Step 2 CK questions from our Qbank. This helps the candidates to figure out their mistakes, identify their weak areas and make corrections under our supervision. We have a large number of questions in our Step 2 CK QBank.
Flexible learning modules will help you focus on your weak areas and allow you to skip what you know well. Personalized study schedules will be adjusted according to your busy routine. You can check your videos, quizzes and content review whenever you are free.
Our teachers are USMLE qualified doctors (MDs) who know well how to make it interesting for you and to keep you motivated. Our interactive classroom sessions engage students on essential topics. You will also learn USMLE exam-taking techniques.