USMLE Preparation Courses - Live & Online Step 1, 2, & 3 Review Classes
Live and Online USMLE preparation and review courses in the USA. Enroll for the best USMLE Step 1 review course, USMLE Step 2 Ck Prep Course, and USMLE Step 3 review course in the USA. Our qualified doctors (MDs) have compiled the major areas of study in our comprehensive USMLE preparation courses and their review notes. There are certain topics where the students find their lacking. No need to worry now, just grab our comprehensive review notes, lectures and start learning.
The United States Medical Licensing Examination (USMLE) are a prerequisite for medical practice license in U.S.A. Gold USMLE step 1, step 2 and step 3 review courses help the medical students in achieving high scores in their USMLE exams. We also have a great impact on their knowledge and clinical approach.
We help our students develop a solid knowledge base through our USMLE preparation courses which is required to attempt USMLE exams and also in clinical practice.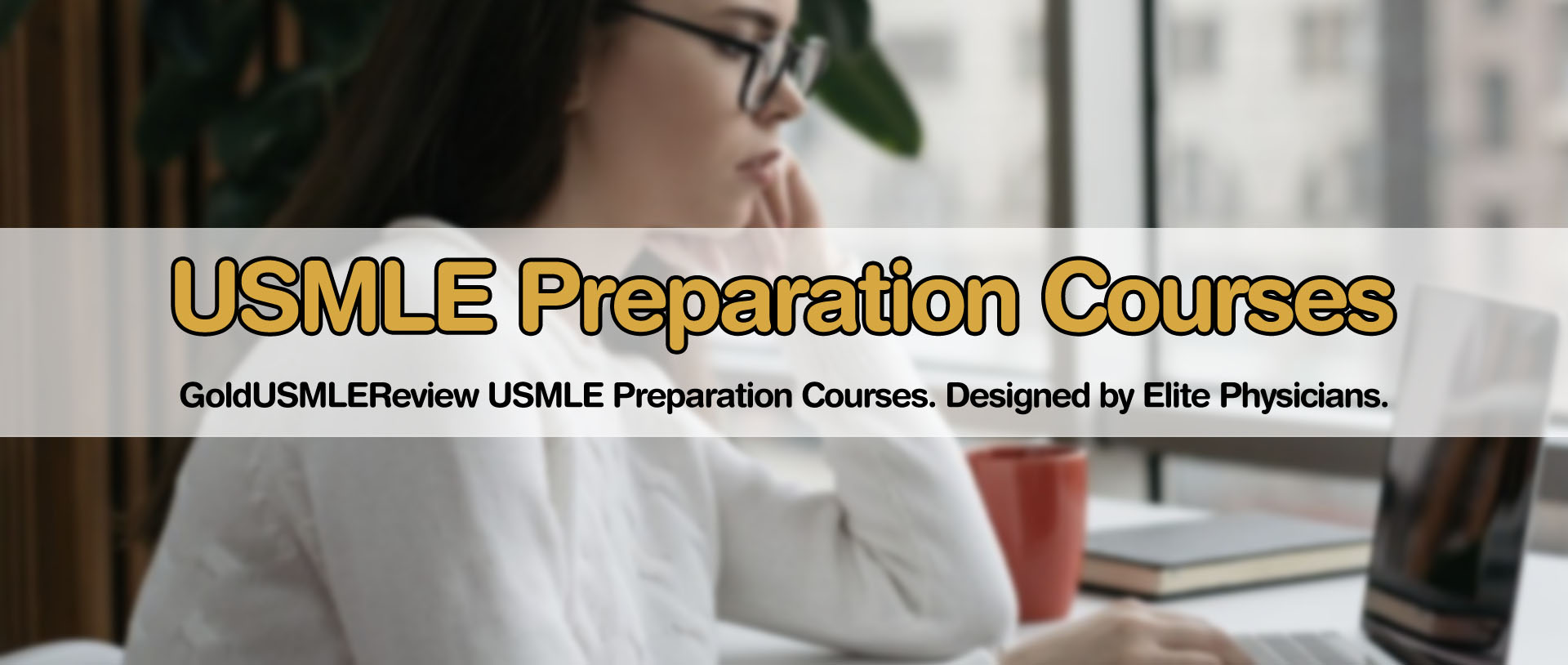 USMLE Review Courses in USA: QBanks, Faculty, Flashcards, Books & Notes
USMLE Preparation QBank:
Thousands of expected questions are compiled by our USMLE expert doctors in a single QBank. We not only provide you the QBank, we make sure you master each and every question from the QBank.
Gold USMLE Faculty:
Our faculty includes experienced doctors and professors. You will have an opportunity to learn directly from them and clarify your confusions. They are ready to guide you through content, exam strategies and clinical approach towards patient management.
Our Flashcards:
No need to go through long textbook notes for everything. Save your time and energy with our USMLE and NBME standard flashcards. Simple yet comprehensive, these flashcards will help you to grasp all the necessary clinical concepts.
Video Lectures – Live and Online Classes:
We provide live and online classes as well as video lectures on clinical concepts that will clear your confusions and advance your clinical knowledge. Each lecture is accompanied by self-analysis tests for reinforcement.
Best USMLE Preparation Courses
If you have got your exam center and date fix, join us in our best USMLE preparation courses or USMLE Review Classes. We help you review clinical vignettes and case handling methods according to USMLE standards.
USMLE Online & Live Prep Courses in USA, Canada, Europe and Asia
We offer online and live USMLE preparation classes for students from USA, Canada, India, China, Europe, Asia, Australia and Africa. You can signup for our online classes from all across the world. The best part of our USMLE online and live prep courses is that we make sure you plan and follow a schedule for review. Going too slow can make you panicked and over burdened near the exam days. On the other hand, over burdening yourself may lead to stress and reduce your learning abilities. We promise individual attention and personalized study guideline according to student's capability.
Why Our USMLE Preparation Courses are the Best in USA?
We offer USMLE step 1 prep course, Step 2 CK prep course and USMLE Step 3 review course. We provide USMLE interface test practice sessions in our USMLE Preparation Courses. These sessions will help you identify your mistakes and boost your confidence. No matter how much clinical knowledge you have, test anxiety can lead you to failure. Practicing on USMLE similar interface will increase your chance of getting higher scores.
The biggest advantage of our best USMLE preparation courses is that you can meet our USMLE expert doctors and professors with prior appointment. Our subject experts are ready to clear your confusions. Our USMLE experts will guide you how to avoid most common mistakes. They also give you tips and tricks to pass your USMLE step 1, 2 or 3. If you can not join us at our campus, book your online session.
We provide quick support 24/7. We also provide stress relief to our students.