USMLE Preparation Courses: Live and Online USMLE Review Courses
Live and Online USMLE preparation and review courses in the USA. Enroll for the best USMLE Step 1 review course, USMLE Step 2 Ck Prep Course, and USMLE Step 3 review course in the USA. Our qualified doctors (MDs) have compiled the major areas of study in our comprehensive USMLE preparation courses and their review notes. There are certain topics where the students find their lacking. No need to worry now, just grab our comprehensive review notes, and lectures and start learning.
The United States Medical Licensing Examination (USMLE) are a prerequisite for medical practice license in U.S.A. Gold USMLE step 1, step 2 and step 3 review courses help the medical students in achieving high scores in their USMLE exams. We also have a great impact on their knowledge and clinical approach.
We help our students develop a solid knowledge base through our USMLE preparation courses which is required to attempt USMLE exams and also in clinical practice.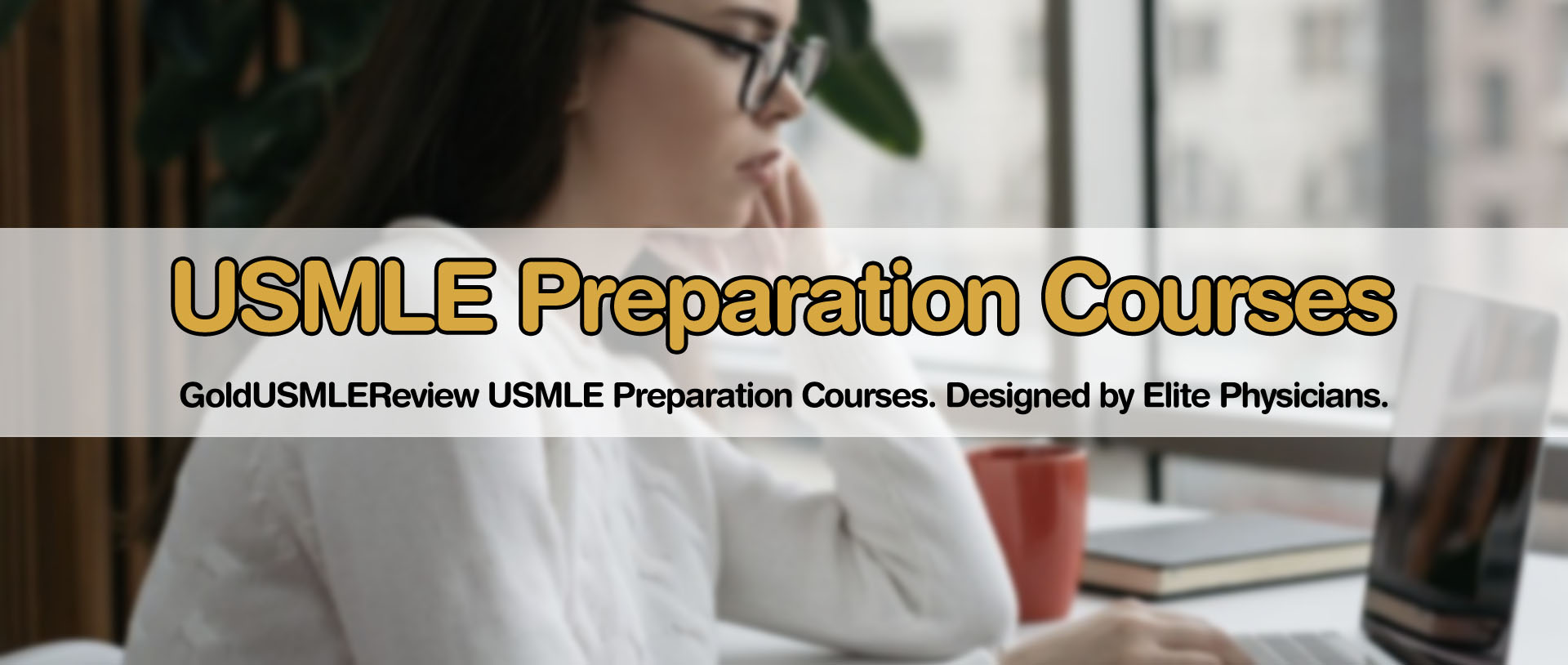 PASS YOUR STEP 1 ON YOUR FIRST ATTEMPT
USMLE Step 1 Written Testimonials
I highly enjoyed my experience at Goldusmle. Dr. Thomas had fast-paced reviews, and he made sure emphasize the high-yield material. My weaknesses became my strengths and I was able to pass step 1 on my first try right after finishing the course! I highly recommend taking this class!
I PASSED STEP 1 WITH HIGH PERFORMANCE on my USMLE step 1 and I would like to thank the hard working staff at GoldUSMLE for helping me achieve my goal. I was overwhelmed studying on my own and I decided to seek the GoldUSMLE STEP1 classes. I was lost on my own and didn't know what to focus on before I came to the GoldUSMLE STEP1 class, the review pinpointed me onto the specific high yield points I needed to know, and helped me understand the underlying concepts beneath each question. It solidified my knowledge and allowed me to reach my potential, I ended up scoring alot higher than my NBME practice set thanks to the high quality review. The amount of hours the doctor spent with us going over topics was extraordinary and I appreciate his stamina and dedication to his students. I strongly recommend the GoldUSMLE review for USMLE step 1 prep without hesitation. It saved me alot of time in my preparation and I highly recommend the GoldUSMLE Step 1 class.
Gold USMLE classes with Dr. Thomas saved my life and helped me get through the United States Medical Licensing Exam Step Before I joined Gold Usmle with Dr. Thomas , I had already taken the USMLE step 1 once and failed. I was devastated and clueless one how to go about my career as an IMG. I did not want to give up on medicine as it was my dream to become a doctor in the United States. I came across GOLD USMLE from a friend of mine who had taken the class. I spoke with Dr. Thomas and told him how I had failed my USMLE STEP 1 . He had some amazing reassurance that it was okay and it just meant that I had more time to study my fundamentals as our ultimate aim in the field of medicine is to be a better doctor and not just pass an exam. The way Dr. Thomas teaches is outstanding. We would go through the questions and not only would he talk about why the correct answer was the right answer but he would go through the other answer choices to see why they were wrong. I cannot emphasize how much effort Dr.Thomas puts on his students. He literally trained my mind on how to approach a question. He would walk through the question with us in class step by step. His technique of eliminating the wrong answer choices to get to the answer choice helped me a lot. It gave me more confidence in choosing the right answer. I realized with time as I implemented this approach I was getting more questions right. I saw that when I approached every question with the techniques Dr. Thomas taught us I was able to get my scores up and I was passing my NBMES. Due to Dr. Thomas guidance and skill to approach the questions I was able to pass my USMLE Step 1 the second time around. GOLD USMLE was the sole reason I had the courage and confidence to attempt it the second time around and I passed. The care Dr. Thomas has for his students medical career is inspiring. He puts in all his efforts to make sure we do well. Im so grateful that I was able to learn from Dr. Thomas and GOLD USMLE helped me get through this exam. DR. Thomas is a great teacher that not only teaches us the material but he put in my head that in the field of medicine we have to keep working hard. It is merely not about passing an exam but it is about saving lives.Thank you Dr. Thomas and I recommend this class to anyone who feels lost and needs some guidance. Take this course with Dr. Thomas and I can confidently say this is the best course for USMLE exams. Nothing beats GOLD USMLE. Thank you Dr. Thomas and the GOLD USMLE team.
PASS YOUR STEP2CK ON YOUR FIRST ATTEMPT
USMLE Step 2 CK Written Testimonials
This review course was AMAZING. At first, I was nervous because there were so many review courses out there and I did not know which one to pick. Dr Thomas is incredible, he teaches a small group of students at a time and he is open to questions and concerns. Don't worry if you don't understand things at first, because Dr Thomas will take it a step further and go over how to master the questions and how to master the concepts of the high yield topics for the exam. This review was worth every penny and I am so glad I was open enough to take a leap of faith.
Thank you Dr Thomas for being who you are, your kindness goes a long way and it is truly appreciated,…!!! I am a better test taker and doctor because of you…!!!
Dr. Thomas' high yield review for the USMLE step 2 CK was very elaborate and on point, he covered all of the topics for my exam and pushed me to be productive each day. We did questions together each day and he helped me identify my weak areas and made all of my weak areas my strengths. I strongly recommend this review and it was the most affordable crash course for the STEP 2 CK exam. His effort and strong will are unmatched and I have never seen such a dedicated medical professor like him.
Scored 260 on my step2ck thank you for all the help. Gratitude to Goldusmlereview!.it gives me great pleasure to share my experience in this facility, which is a great prep program for students seeking to pass usmle step2 ck exams successfully. thank you so much for all instructors, staff who were nice, excellent, and well organized. I Highly appreciate Dr.Thomas' supervision and instructors who were always encouraging and enhancing students for more learning and experience. I found it the best prep program in Houston . Dr.Thomas was incredibly helpful to the students. accordingly, I got strengthened my clinical communication skills during my intensive course in Goldusmlereview, I highly recommend it to anyone who is preparing for all Usmle's step exams.
USMLE Step 3 Review Course
PASS YOUR STEP 3 ON YOUR FIRST ATTEMPT
USMLE Step 3 Written Testimonials
I scored high on my STEP 3 . I excelled on my MCQ and CCS and improved my score substantially. I would like to strongly recommend GOLDUSMLE REVIEW FOR HELPING ME PASS MY STEP 3 exam.
The questions were extremely high yield for my exam and helped me push through the difficult blocks. The sessions were highly informative and covered all the topics necessary for the exam in an organized and succinct Manner.
I used the GOLDUSMLE FOR the 8 weeks course and it was a quick fix for my exam. Step 3 content was excellent to supplement going through practice questions when studying for Step 3, and it really helped me to go through specific topics from start to finish when I got questions on them. It also helped to see additional questions that might pop up with the various topics! The course instructors were extremely dedicated to include the most up to date information on these topics, which helps when trying to decide which resource is most correct when studying.
I scored high on my STEP 3 . I would like to strongly recommend GOLDUSMLE REVIEW FOR HELPING ME PASS MY STEP 3 exam.
The questions were extremely high yield for my exam and helped me push through the difficult blocks. The sessions were highly informative and covered all the topics necessary for the exam in an organized and succinct Manner.
USMLE Coaching with High Yield Notes, QBanks, Flashcards and Books
Thousands of expected questions are compiled by our USMLE expert doctors in a single QBank. We not only provide you the QBank, we make sure you master each and every question from the QBank.
Our faculty includes experienced doctors and professors. You will have an opportunity to learn directly from them and clarify your confusions. They are ready to guide you through content, exam strategies and clinical approach towards patient management.
No need to go through long textbook notes for everything. Save your time and energy with our USMLE and NBME standard flashcards. Simple yet comprehensive, these flashcards will help you to grasp all the necessary clinical concepts.
Video Lectures – Live and Online Classes
We provide live and online classes as well as video lectures on clinical concepts that will clear your confusions and advance your clinical knowledge. Each lecture is accompanied by self-analysis tests for reinforcement.
Best USMLE Preparation Course
If you have got your exam center and date fix, join us in our best USMLE preparation courses or USMLE Review Classes. We help you review clinical vignettes and case handling methods according to USMLE standards.
USMLE Online & Live Prep Courses in USA, Canada, Europe and Asia
We offer online and live USMLE preparation classes for students from USA, Canada, India, China, Europe, Asia, Australia and Africa. You can signup for our online classes from all across the world. The best part of our USMLE online and live prep courses is that we make sure you plan and follow a schedule for review. Going too slow can make you panicked and over burdened near the exam days. On the other hand, over burdening yourself may lead to stress and reduce your learning abilities. We promise individual attention and personalized study guideline according to student's capability.
Why are Our Review Courses the best?
We offer USMLE step 1 prep course, Step 2 CK prep course and USMLE Step 3 review course. We provide USMLE interface test practice sessions in our USMLE Preparation Courses. These sessions will help you identify your mistakes and boost your confidence. No matter how much clinical knowledge you have, test anxiety can lead you to failure. Practicing on USMLE similar interface will increase your chance of getting higher scores.
The biggest advantage of our best USMLE preparation courses is that you can meet our USMLE expert doctors and professors with prior appointment. Our subject experts are ready to clear your confusions. Our USMLE experts will guide you how to avoid most common mistakes. They also give you tips and tricks to pass your USMLE step 1, 2 or 3. If you can not join us at our campus, book your online session.
We provide quick support 24/7. We also provide stress relief to our students.