USMLE Step 1: Questions, Passing Score, Percentile and Study Schedule
USMLE Step 1 complete guide. Step 1 pass-fail, passing score, percentile, questions bank, videos, high yield notes, best resources, and study schedules. Our USMLE Step 1 Practice Question sets helps you recognize how to approach a multiple choice question, how to analyze it and break it down. A number of diseases have similar symptoms and presentation. When solving a question set, practicing under pressure is essential to learn time management skills.  In the USMLE exam, questions are not given in a systematic way, so you should practice them as much as possible.
USMLE Step 1 is based on applying the right concepts in clinical situations. Your course instructor will make you understand your mistakes made on the practice questions will help you realize the correct solutions. Thus guiding you to correct your mistakes and helping you overcome your weaknesses in time for your exam.
CALL 1-832-836-1330 TO REGISTER
USMLE STEP 1 DATES AND PRICING FOR OUR LIVE AND ONLINE PREP COURSE
***For a FREE DEMO please add Skype ID goldusmlereview007
8 WEEKS (MON-FRI 8:30AM-3:30pm) ONLINE AND LIVE CENTER PREP
8weeks (40 sessions)
Feb 6-Mar 31 2023
Feb 13-Apr 7 2023
Feb 20-Apr 14 2023
Feb 27-Apr 21 2023
Mar 6-April 28 2023
Mar 13-May 5 2023
Mar 20-May 12 2023
Mar 27-May 19 2023
Apr 3-May 26 2023
Apr 10-June 2 2023
Apr 17-June 9 2023
Apr 24-June 16 2023
May 1-June 23 2023
May 8-June 30 2023
12 WEEKS (MON-FRI 8:30AM-3:30PM) ONLINE AND LIVE CENTER PREP
12weeks (60 sessions)
Feb 6-Apr 28 2023
Feb 13-May 5 2023
Feb 20-May 12 2023
Feb 27-May 19 2023
Mar 6-May 26 2023
Mar 13-June 2 2023
Mar 20-June 9  2023
Mar 27-June 16 2023
Apr 3-June 23 2023
Apr 10-June 30 2023
Apr 17-July 7 2023
Apr 24-July 14 2023
May 1-July 21 2023
May 8-July 28 2023
16 WEEKS (MON-FRI 8:30AM-3:30pm) ONLINE AND LIVE CENTER PREP
16weeks (80 sessions)
Feb 6-May 26  2023
Feb 13-June 2 2023
Feb 20-June 9  2023
Feb 27-June 16 2023
Mar 6-June 23 2023
Mar 13-June 30 2023
Mar 20-July 7  2023
Mar 27-July 14 2023
Apr 3-July 21 2023
Apr 10-July 28 2023
Apr 17- Aug 4 2023
Apr 24-Aug 11 2023
May 1-Aug 18 2023
May 8-Aug 25 2023
A) 8 WEEKS LIVE & ONLINE INTERACTIVE STEP 1 REVIEW COURSE
MON to FRI (8:30am-3:30pm)
8 WEEKS USMLE STEP 1 LIVE ONLINE INTERACTIVE REVIEW PROGRAM
(MON to FRI 9:30am-4:30pm)
50% off sale-$1599 DISCOUNTED FROM $3199
Please Click "Buy Now" below and enter your card information to reserve your seat. Please also fill out the Registration Form on this page to fix the dates to the payment.
B) 12 WEEKS LIVE & ONLINE INTERACTIVE STEP 1 RAPID REVIEW COURSE
MON to FRI (8:30am-3:30pm)
12 WEEKS*LIVE INTERACTIVE ONLINE GOLDUSMLE STEP 1 COURSE
MON to FRI (8:30am-3:30pm)
50%off SALE-$2199 DISCOUNTED FROM $5400
Please Click "Buy Now" below and enter your card information to reserve your seat. Please also fill out the Registration Form on this page to fix the dates to the payment.
C) 16 WEEKS LIVE & ONLINE INTERACTIVE STEP 1 RAPID REVIEW COURSE
MON-FRI 8:30-3:30PM
16 WEEKS *LIVE INTERACTIVE ONLINE GOLDUSMLE STEP 1 COURSE
MON-FRI 8:30AM-3:30 PM
50%off SALE-$2999 DISCOUNTED FROM $5999
Please Click "Buy Now" below and enter your card information to reserve your seat. Please also fill out the Registration Form on this page to fix the dates to the payment.
C) 8 WEEKS LIVE IN PERSON CTR PREP STEP 1 REVIEW COURSE
MON to FRI (8:30am-3:30pm)
8 WEEKS USMLE STEP 1 *LIVE IN PERSON GOLDUSMLE CENTER PREP REVIEW
MON to FRI (8:30am-3:30pm)
50%off Sale  $1950 DISCOUNTED FROM $3899
Please Click "Buy Now" below and enter your card information to reserve your seat. Please also fill out the Registration Form on this page to fix the dates to the payment.
You will be given e-Confirmation email once the payment clears.
D) 12 WEEKS DELUXE GOLDUSMLE LIVE IN PERSON STEP 1 REVIEW COURSE
MON to FRI (8:30am-3:30pm)
$
2699
12 weeks deluxe in person
12 WEEKS *LIVE IN PERSON GOLDUSMLE STEP 1 COURSE
MON-FRI 8:30AM-3:30 PM
50%off- $2699 DISCOUNTED FROM $5999
Please Click "Buy Now" below and enter your card information to reserve your seat. Please also fill out the Registration Form on this page to fix the dates to the payment.
You will be given e-Confirmation email once the payment clears.
E) 16 WEEKS LIVE IN PERSON CTR PREP STEP 1 REVIEW COURSE
MON-FRI 8:30AM-3:30 PM
16 WEEKS *LIVE IN PERSON GOLDUSMLE STEP 1 COURSE
MON-FRI 8:30AM-3:30PM
50%off-  $3499 DISCOUNTED FROM $6999
Please Click "Buy Now" below and enter your card information to reserve your seat. Please also fill out the Registration Form on this page to fix the dates to the payment.
You will be given e-Confirmation email once the payment clears.
USMLE Step 1 Video Testimonials
USMLE Step 1 Questions, Study Schedule and Review Course
Rapid High Yield Review of USMLE Step 1 materials, MCQ analysis, and Elaborate Explanations of all subject materials from the Basic Sciences. Our online or live USMLE Step 1 Question based rapid review course will emphasize MCQ mastery and high yield 2023 lecture content to reinforce the MCQ sets. Here we will explain the USMLE Step 1 course content outline and breakdown. Our review will cover all of the following topics.
General Principles
Blood & Lymphoreticular/Immune Systems Behavioral Health & Nervous Systems/Special Senses Musculoskeletal, Skin & Subcutaneous Tissue Cardiovascular System
Respiratory & Renal/Urinary Systems Gastrointestinal System
Reproductive & Endocrine Systems
Multisystem Processes & Disorders
Biostatistics & Epidemiology/Population Health Social Sciences: Communication Skills/Ethics
NOTE: All of our GOLDUSMLE Step 1 Prep Courses have over 99% Success Rate with our 2023 Student pool.
Sessions available each Month with Classes running from Monday through Friday from 8:30am – 3:30pm ONLINE VIA VIDEO CONFERENCING OR IN PERSON AT OUR CENTERS IN HOUSTON OR ATLANTA.
Space is Limited per Session to provide an exceptional experience to each student so it is recommend to register early to ensure you get a spot in your desired session.
Complete LIVE IN PERSON Step 1 Prep In Just 8 Weeks  or 13  Weekends With An Over 99% Student Success Rate
Comprehensive Lectures Created By MDs
Exclusive Multiple Choice Questions Tied to Each Core Lecture
Coverage & Analysis of Over 3000-10,000+ In-Class Practice Questions
High-Yield GOLD Drill Series
USMLE Question Breakdown Tutorials & Strategies
High-Quality Charts, Images, Graphs, etc.
Limited, Small Class Sizes for 1-on-1 Interaction
Question-based instruction online and live in person USMLE Step 1 – High Yield
Addressing high yield concepts through several question sets, while understanding and applying the concepts to the question
Covering 40-80 Question set coverage
High Yield Commonly Tested Questions daily
Thorough question review, in which each student is given the opportunity to uncover and digest content for their exam.
keyboard_arrow_leftPrevious
Nextkeyboard_arrow_right
Step 1 Preparation: Maximize Score with High Yield Notes & Lectures
We help students with our Premium USMLE Step 1 preparation course. We teach you how to prepare for step 1 exams based on a 4-8 week or 13 weekend dedicated study period. We help our students follow the NBME testing pattern. You may require a daily 12 hours study schedule to maximize your score.
*NOTE THESE FEATURES ARE FOR THE LIVE CENTER PREP COURSE NOT THE ONLINE COURSE.Our USMLE Step 1 preparation course is divided into videos, high yield pdf notes, high yield lectures, book reading, solving questions from Question sets with USMLE /NBME standards, and guidance sessions supervised under the best clinical course instructors.
What sets this USMLE Step 1 program apart?
*NOTE THESE FEATURES ARE FOR THE LIVE CENTER PREP COURSE NOT THE ONLINE COURSE.
DELUXE QUESTION SET REVIEWS
HIGH QUALITY OF TEACHING w/ MAXIMUM INTEGRATION OF CONCEPTS
SUPPORT EACH DAY TO PUSH YOU TO YOUR GOALS ONLINE VIA SKYPE OR ZOOM CONFERENCING. PLEASE ADD SKYPE Id GOLDUSMLEREVIEW007
AMG and IMG Medical schools refer students to this program.
NBME Shelf Subject Exam coupons provided for live classes only to be used in the center, with performances reviewed every 15 days
Highly competent and accomplished teachers provide a kind, caring, and nurturing environment
The live center is open in Houston, Texas, and Atlanta, GA from 8:30AM to 9 PM, sessions last from 8:30 AM- 3:30 PM  CST Monday-Friday  AFTER 3:30 PM CST students can use the facility to read practice, and dialogue with others. The facility has extensive functional features including; lecture hall, examination study rooms, a computer lab, and classrooms.
Rolling start dates
Complete workshop in either 8 weeks, or 13 weeks course based on your preference.
Flexible Start Dates -Enrollment for the course happens every Monday
General Info- USMLE step 1 (Prometric Center, Passing score, Scheduling,Practice Question Sets)The USMLE Step 1 exam is an analysis of the student's ability to utilize basic science and general knowledge for providing patient care. The test content is centered around physician's task and disease analysis. It is usually taken by students in the 3rd year of their medical school.Students from U.S medical schools can register through NBME Licensing Examination Services for USMLE and students from medical schools out of U.S/ Canada can register through ECFMG. The Step 1 is a 9 hours long exam which is divided into 8 blocks. Each block consists of 40 questions to be done in 1 hour. The questions are arranged randomly and the candidate must have a strong command over all subjects.The questions included in step 1 follow single best answer and single answer matching formats. The questions center upon diagnosis and treatment of different diseases. Step 1 questions sample and remembered questions are easily available on different websites.
USMLE Step 1 Registration and Prometrics
When you decide to attempt your Step 1, the first step is to get registered with the ECFMG. The candidates can register online through the ECFMG official website. They will send an ECFMG identification number through email. Then you can submit them a Form186 which is signed by a Dean or Notary Service.
The application process usually takes two weeks after submission. The ECFMG verifies your level of medical education and other documents. The eligible candidates are then registered for the USMLE exams. You can also register through USMLE Step 1 Prometric official websites. You can schedule your exam easily with Prometric.
Top Rated USMLE Step 1 Online and Live Prep Course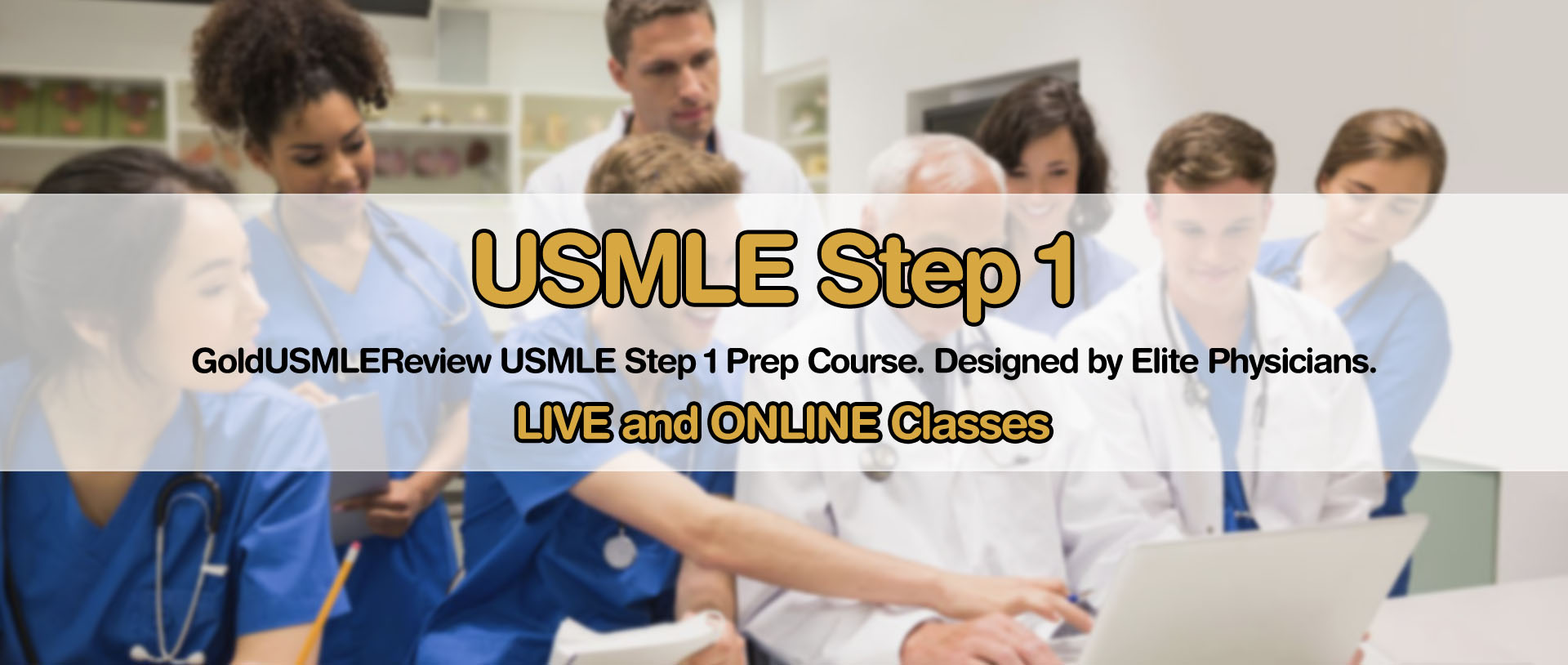 USMLE Step 1 Questions Bank, Flashcards, Books, and Best Resources
Our practice questions are designed by our elite physicians using the best resources. The USMLE Step 1 questions are the clinical presentations of the most common diseases. We teach our students to try to analyze the question and understand what they are trying to ask in that question stem. The best way to approach a question is by the writer's mindset. Another method is by ruling out wrong answers by process of elimination.
STEP 1 WRITTEN TESTIMONIALS
keyboard_arrow_leftPrevious
Nextkeyboard_arrow_right
***Gold USMLE classes with Dr. Thomas saved my life and helped me get through the United States Medical Licensing Exam Step Before I joined Gold Usmle with Dr. Thomas , I had already taken the USMLE step 1 once and failed. I was devastated and clueless one how to go about my career as an IMG. I did not want to give up on medicine as it was my dream to become a doctor in the United States. I came across GOLD USMLE from a friend of mine who had taken the class. I spoke with Dr. Thomas and told him how I had failed my USMLE STEP 1 . He had some amazing reassurance that it was okay and it just meant that I had more time to study my fundamentals as our ultimate aim in the field of medicine is to be a better doctor and not just pass an exam. The way Dr. Thomas teaches is outstanding. We would go through the questions and not only would he talk about why the correct answer was the right answer but he would go through the other answer choices to see why they were wrong. I cannot emphasize how much effort Dr.Thomas puts on his students. He literally trained my mind on how to approach a question. He would walk through the question with us in class step by step. His technique of eliminating the wrong answer choices to get to the answer choice helped me a lot. It gave me more confidence in choosing the right answer. I realized with time as I implemented this approach I was getting more questions right. I saw that when I approached every question with the techniques Dr. Thomas taught us I was able to get my scores up and I was passing my NBMES. Due to Dr. Thomas guidance and skill to approach the questions I was able to pass my USMLE Step 1 the second time around. GOLD USMLE was the sole reason I had the courage and confidence to attempt it the second time around and I passed. The care Dr. Thomas has for his students medical career is inspiring. He puts in all his efforts to make sure we do well. Im so grateful that I was able to learn from Dr. Thomas and GOLD USMLE helped me get through this exam. DR. Thomas is a great teacher that not only teaches us the material but he put in my head that in the field of medicine we have to keep working hard. It is merely not about passing an exam but it is about saving lives.Thank you Dr. Thomas and I recommend this class to anyone who feels lost and needs some guidance. Take this course with Dr. Thomas and I can confidently say this is the best course for USMLE exams. Nothing beats GOLD USMLE. Thank you Dr. Thomas and the GOLD USMLE team.
-Dr NANDANI VADLAMANI, MD
***I highly enjoyed my experience at Goldusmle. Dr. Thomas had fast-paced reviews, and he made sure emphasize the high-yield material. My weaknesses became my strengths and I was able to pass step 1 on my first try right after finishing the course! I highly recommend taking this class!  
-DR RUXANDRA ROSCA
***I PASSED STEP 1 WITH HIGH PERFORMANCE on my USMLE step 1 and I would like to thank the hard working staff at GoldUSMLE for helping me achieve my goal. I was overwhelmed studying on my own and I decided to seek the GoldUSMLE STEP1 classes. I was lost on my own and didn't know what to focus on before I came to the GoldUSMLE STEP1 class, the review pinpointed me onto the specific high yield points I needed to know, and helped me understand the underlying concepts beneath each question. It solidified my knowledge and allowed me to reach my potential, I ended up scoring alot higher than my NBME practice set thanks to the high quality review. The amount of hours the doctor spent with us going over topics was extraordinary and I appreciate his stamina and dedication to his students. I strongly recommend the GoldUSMLE review for USMLE step 1 prep without hesitation. It saved me alot of time in my preparation and I highly recommend the GoldUSMLE Step 1 class.
-DR. DEEPIKA DEVALATH
***My name is Eyerusalem Dingamo an IMG and a mother of two little boys. Being a mom of two little boys and preparing for usmle step 1 with a dedicated study hours was hard for me and I was looking for a good program to join and searched online. By just reading the reviews I joined the 8 weeks online program for USMLE step 1. I am glad i did. Dr. Thomas was the best teacher, he made me feel confident in going through all the questions in detail. I strongly recommend this program for everyone who is preparing for the USMLE exams. I am definitely coming back for step 2 CK. Thank you Dr. Thomas and the Goldusmlereview team.
-Dr Eyerusalem Dingamo, MD
***It is difficult to put into words just how amazing Dr. Thomas is. I am a chiropractor who works full time (12 hour days, 6 days a week) and on top of that, I am in my late 50s. While those factors may make it seem impossible to do medical schooling, Dr. Thomas went out of his way, using every resource that he had, to make it work for me. He not only gave me his time but something much more important than that, his genuine effort and sincerity.
If I could give Dr. Thomas a hundred stars instead of just 5, I would. This program is perfect for professionals who already have established careers and jobs and cannot pursue an education in the normal and traditional way. For those who may be older in age but not too old enough to dream a new dream and set new ambitions. Whether it was at 10 pm or even sometimes later, he was always accessible to answer questions and help me prepare for exams. Without him and this program, there would have been no way, with my busy schedule and age, to have done what I did. My accomplishments are not only my own but Dr. Thomas' also.
-Dr Eung Kim
***GoldUSMLE review is Worth every penny. This program gives great lectures, review sessions, and drills and a schedule to follow. I left the program with clarity a and deeper understanding of science of medicine but with confidence which I was was lacking prior to taking the step 1 course. I improved my COMLEX score close to 100 points and I passed step 1 on my first try with a very good score. What I most love about the program is how easy is is to navigate the course and stay focused. Definitely worth every penny you pay and I have already recommended it to several of my friends.
-Dr R. REID, DO
***GOLD usmle review is a great program. I took the 8 week step 1 Live prep course at the Houston center and it was one of the best decision I ever made. After struggling with the step 1 materials, GOLD usmle was definitely the place I needed to be at for the exam preparation and the course helped me gain the confidence I needed in order to take the exam. I gained the much needed knowledge and learned alot about the structure of the exam, the content as well as covering many high yield questions encompassing all the topics. Dr. Thomas is an excellent instructor and taught us how to approach the questions, pick up the key words in the vignettes, which eventually help with choosing the right answer. Our group was small which made it easier for us to concentrate and get clarity from Dr. Thomas on any questions we had. I also passed my step 2 CS with a high performance after taking a 4 day prep course at the Houston center. So I highly recommend GOLD usmle review program to anybody who needs to pass any of the USMLE exams or increase their steps scores. It is definitely the place to be and you will not regret it.
-Dr. Natasha C., MD
***I am a DO student and I was recommended by GoldUSMLE by a classmate who did well with them. Right from the start they were very helpful in guiding me on what courses to take with them and the day to day approach I should take while prepping. I took their 8weeks step 1 course first which was great in helping me solidify the foundation concepts and then finished my prep in their 8 weeks course in Houston which was just fantastic as it was an excellent resource. It helped me focus, and it was fantastic to finally get out and be amongst other similarly situated students. Dr. Tarek and Dr. Thomas were all so amazing to work with. GoldUSMLE is the reason I passed my COMLEX and Step 1 exams and I absolutely recommend them for your prep.
-Dr. Richard H. DO
***My deepest gratitude to Dr Thomas's commitment. He does an excellent job to ace the USMLE steps. His teaching is amazing. This is the definite way to ace the USMLEs. Thank you again for all!!!
-Dr. Romuald F. , MD
***Dr. Thomas. What can I say. You truly helped me preparing for my clinicals and I wouldn't have any other instructor than you Dr. Thomas. I heard about them through searching online, but I also found out that Dr. Thomas helps students in preparing for USMLE Steps. He is really dedicated in providing his students with the right material and knowledge to excel in the exams. If I had known about GoldUSMLE during my USMLE preparations, I would not have hesistated to take it. I highly recommend this GoldUSMLE to ANYONE who is struggling in their questions or need the right guidance.

-Dr Devansh Pathak, MD
***Scored High performance on all categories on my  USMLE step 1 exam and I would like to thank Dr Thomas. The goldusmle USMLE Step1 review classes were very helpful. I would like to thank them for helping me achieve my goal. His hard work and genuine care for the students is inspiring. His unique approach to tackling questions was excellent for my step 1 exam as I was able to finish all of my blocks 10 mins ahead of time. Without his help I probably would not have been able to score high. My score was higher than my nbme practice exam. I highly recommend the goldusmle step 1 program and I will be definitely be coming back for step2ck. May God bless you in every way. Thank you for your help!
-Dr. Nikhil N, MD
***Goldusmlereview is by far the best USMLE review course hands down !!! Dr. Thomas and his staff went well and beyond and far exceeded my expectations when preparing for my USMLE exams. Dr. Thomas was very personable and treated me for the individual who I am. His approach is unique as he is a professor/teacher, mentor, and coach all in one !!! With this course you have the luxury of having someone (Dr. Thomas) right by your side at all times. The course helped gauged by strengths and weaknesses and helped me focus on areas of improvement. I had the luxury of attending both live and online sessions. The live course was akin to a boot camp full of energy and enthusiasm displayed by Dr. Thomas. The zoom online sessions were incredible as well with an interactive display and helping all the students being engaged at all times with lecture slides, practice questions, and discussions. In addition, the class sizes are limited so that attention can be given to all the students. Highly recommend !!!!!
-DR ADNAN K, MD
***Great course ! Left speechless after going through Dr. Thomas's review course for Step 1, Step 2Ck, and Step 3. What an amazing course with all the high yield information along with the latest and current updates for the USMLE exams. If you are looking for a review series that guides you through each and every step of the way, this is the one to join my fellow colleagues. There was never a dull moment. Every second of the course, my colleagues and I were being engaged the whole time via active learning. I would like to thank Dr. Thomas and his staff for preparing me for all of the three USMLE exams.
-Dr. Drew S., MD
***Gratitude to Goldusmlereview!.it gives me great pleasure to share my experience in this facility, which is a great prep program for students seeking to pass usmle exams successfully. thank you so much for all instructors, staff who were nice, excellent, and well organized. I Highly appreciate Dr.Thomas' supervision and instructors who were always encouraging and enhancing students for more learning and experience. I found it the best prep program in Houston . Dr.Thomas was incredibly helpful to the students. accordingly, I got strengthened my clinical communication skills during my intensive course in Goldusmlereview, I highly recommend it to anyone who is preparing for all Usmle's step exams.
-Dr.Mohamed M. MD
***Gold USMLE Review was one best choices I ever made! I'm an American who went to 6yr med school overseas. I flew to Houston to attend 8 week Step 1 course, and it was worth every penny. "Value-for-Money" is a marketing term which is really, what you pay, for what you get. Gold USMLE Review was the cheapest most affordable option, however the course was of the highest quality!!
Dr Thomas pressents the course material in a manor that is tailored to medical students need for easy capture of concepts needed for success on test day.
If you are a weak student worried about passing, or a stronger student seeking a higher score, this course will absolutely help you get the highest score possible on USMLE! Whether you're an American graduate or international graduate, this a great course. I'm sure I will return for Step 2 & 3 services.
A sincere thank you to admin & Dr. Thomas!
-DR DARIN JOHNSON MD
***Just as I was about to lose all hope in being able to pass Step 1, I found Gold USMLE and it was the absolute BEST thing that could have happened to me. Words cannot express how grateful I was the moment I found out about Gold USMLE I immediately contacted Dr Thomas, explained my situation & he instantly contacted me, we spoke on the phone one-on-one and just like that he became my mentor. He was so excited to help me: he not only gave me spectacular suggested resources from his website but also gave me advice on how to study and improve based on my unique situation and timeline. The USMLE Step 1 Rapid Review & Test-Taking Strategy Masterclass was absolute perfection, and it significantly improved my Step 1 score. This course covered all the high-yield material (including Pathoma Chapters: 1-4) in such an integrative way, applying active recall while also providing test-taking strategies. Absolute perfection. I only wish I would've known about Gold SMLE and Dr. Thomas sooner – even before starting dedicated – because just in the span of a few weeks, thanks to Dr. Thomas, I felt confident in my Step 1 preparation. Thanks to him and the masterclass, I saw significant improvement in my study strategies, test-taking strategies, critical thinking, connecting concepts, overall knowledge, and, most importantly, confidence. I will be forever grateful to Dr. Thomas for helping me achieve a successful passing Step 1 score. HIGHLY RECOMMEND!!
DR KHALID M., MD
***I scored high on my step 3 thanks to Goldusmle step 3review sessions. It is the perfect review for students that want to brush up the topics just before their exam. I was able to answer the questions on my real exam with a steady pace, and never had to hesitate for any question in each block. You have to be consistent when it comes down to the timing and GoldUSMLE review helped me develop the CCS skills necessary to do well on the modules, and the MCQ review was fantastic.
-Dr. Emilia B.
***I decided to try GOLDUSMLE step 3 online classes and it was the best choice I made. At Goldusmle, I was able to understand why things worked the way they did instead of memorizing a bunch of random facts. Thanks to Dr. Thomas' teaching style and the tutors' 1-on-1 attention, I passed not only Step 3 but also matched into the program that was close to my home ! GoldUSMLE is the reason I continued medical school and became a doctor.
-Dr. Evan D.
**Please accept my sincere THANKS to Dr. Thomas and the entire GoldUSMLE step 3 team. It really was a wonderful experience for me and was definitely worth it!
I thoroughly enjoyed the online review sessions, they were very convenient especially with this COVID situation.
-Dr. Maria D.
***Thank you, Dr. Thomas and staff for all your support and help during what was the most challenging and emotionally trying time for me with the COVID 19 pandemic I was forced to stay home, thank god I was able to learn from you guys.. You gave me the courage to continue and tools to know how to do so. I am happy to say I scored higher than my practice tests on my step 3 exam and I look forward to doing the practice residency interview training with you guys.
-Dr. Ajay J.
***Two of my best friends took the USMLE Step 3 at GoldUSMLE online sessions. One has passed and the other is waiting for her results. Every time I have the chance to speak to them they tell me how wonderful the program is. I never considered taking a review until 3 weeks ago. I studied on my own and passed Step 2 Then I started studying for Step 3 but something happened & my world flipped upside down – My mother died. Now I can't even look at a book and my concentration is completely gone. I feel confident that your program would help me move forward with my study plans and helped me focus despite the tragedy I experienced.
-Dr. Mark S.
***I have a student who just came back from your program. She said "I learned tremendous amount in a short period of time!!" This is great! I have been telling students about the program for the MCQs and the CCS . They are always energetic about how to best prepare for the step3.
-Dr. Lyam C.
***I had a lot of things going on in my life that were preventing me from studying well. I couldn't make any progress. I tried 2 other review courses which turned out to be a waste of time and money. When I heard about GoldUSMLE I was hesitant because I had already spent a fair amount of money. I felt I had few options left and decided to try it because of the small class size and the access to the staff & Dr. Thomas. I was hopeful with the first week and by the second week I had my confidence back. Dr. Thomas' methodology really clicked for me, and he really nailed it when it came to my hang-ups and the staff was always patient & kind. Long story short, I am now in my first year of residency doing well.
-Dr. Parvathy S.
***Thank you so much for your encouraging words and support. You helped me through the most challenging experience of my life. You gave me the tools that I needed to make it and I know I have what it takes to get through my step 3 exam. I will miss all of the staff at GoldUSMLE. I consider you my friends. –
Dr Danielle M.
***Thanks to all for reminding me to have confidence in myself. Without Dr. Thomas and his staff, I would not have had the confidence to do well & pass my exam. I will take your influence & powerful concepts with me! Love this program & everyone in it!
-Dr. Daniel S.
***I had such a positive experience at GoldUSMLE. I have wanted for years to see all the information I have been exposed to in my medical education presented in a cohesive way that would allow me to understand it rather than just simply memorize it. The staff was so friendly, and I could not think of a better place or better people to spend several weeks with. Dr. Thomas was easily the best teacher I have had throughout my years in medical training, and thanks to him I now understand core physiological principles that will allow me to reason through problems. Best of all, I am excited about my education now! Thanks so much to GoldUSMLE and all the staff for a stellar program and experience!
-Dr L .Liu
***Thanks again for all the help when I was there. GoldUSMLE is a great program and I have recommended it to my friends. I felt a lot more confident after all the step 3 classes and my test taking skills are at an all time high as it has never been better. It was also very helpful to have the tutors point out where I had problems, it helped me know where to focus. I am still waiting for my results and Im confident that I passed.
-Dr. Kimberly S.