USMLE Step 1 Prep Course - Best Step 1 Review Course in USA
Our USMLE Step 1 prep course is one of the best step 1 review courses in the USA. We provide both live and online classes for USMLE Step 1. Students seeking for Step 1 prep course from New York, Chicago, Atlanta, Houston, or anywhere from USA, Canada, India, Europe and Australia can sign up for our online classes or QBank. In short, you can have access to our online step 1 preparation course that includes lectures, notes and QBanks from anywhere in the world.
USMLE Step 1 is a test of medical students from basic sciences they have studied during first two years in medical school including anatomy, physiology, behavior science, biochemistry etc.
The exam is based on complex, clinical knowledge based questions to be done in total eight hours. GoldUSMLEReview provide comprehensive Step 1 Prep Course and Step 1 Review Course at our workshops (live) and online.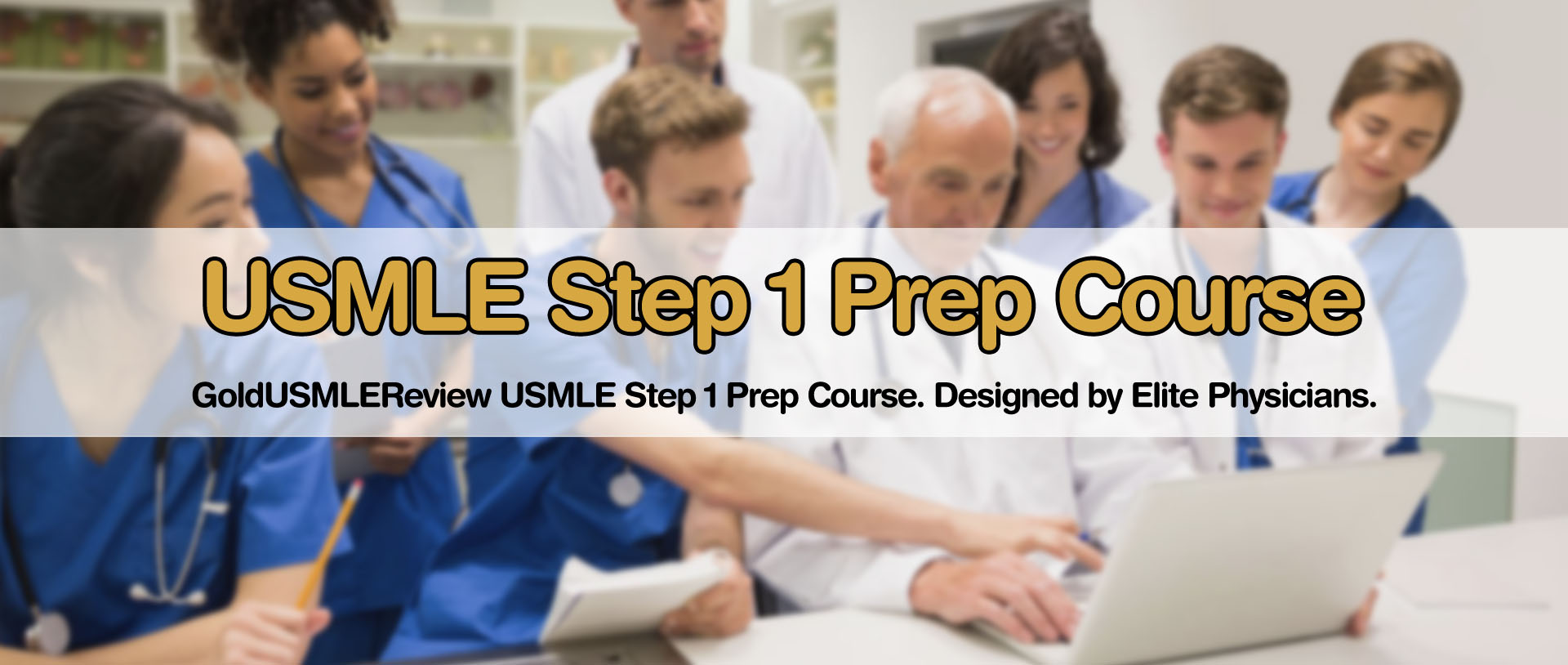 Best USMLE Step 1 Prep Course 2020
99% Success Rate – 24,383 Passing AMG/IMG Students
You can take help from our board of USMLE experts to analyze your clinical knowledge and the level of prep course suitable for you. Identify your weaknesses and then select our GoldUSMLEReview Step 1 Prep Course according to your learning requirements and budget.
USMLE Step 1 Qbank
To score higher grades you should understand the Step 1 question format. It is necessary to understand the structure and content of the given questions. The questions are designed in a clinical presentation rather than simple factual knowledge.
Our USMLE Step 1 prep course QBank includes more than 3000 step 1 questions with best answers. In the first phase you can learn all questions and their provided solutions. In the second phase test yourself to know how much you retained from your learning.
Live and Online Classes for USMLE Step 1 Review Course
Our lectures are based on "High Yield Content". Our subject specialist professors (MDs) will concisely explain all topics that are likely to be asked in your USMLE exam. We also provide notes with reinforcement as supplementary learning resources.
Study time frame:
We divide your preparation time into three units or phases for an effective study time distribution plan:
Consolidation phase: In this phase you will study all topics through lectures, notes and Qbank within a given time frame.
Revision phase: In this phase we will test you through Qbank and simulated exams. You will also master time management skills.
Precision phase: In this phase we help you perfect all your weak areas through continuous guidance. You can take consultation from our specialist doctors.
USMLE Step 1 Preparation: Course, Classes & Qbank
We excel in USMLE Step 1 preparation and review course and ensure that our students pass their USMLE step 1 with high grades. Here are few distinctive features of our step 1 review course.
Best Instructor Led-Courses:
Our faculty of experienced doctors and professors will engage and motivate you through live and online webinars and lectures in New York, Chicago, Atlanta, Toronto, Houston, anywhere is Unites States, Canada, Asia, Europe, Africa or Australia. Our USMLE Preparation courses are for students from all around the globe.
Test Yourself:
Attempt our on-demand simulated exams to boost your confidence and identify your weakness. You can discuss your progress and mistakes with our subject experts. You will also learn time management skills through USMLE Step 1 standard test questions.
Learn from Your Peers:
You will have an opportunity to interact with other medical students from U.S and other countries. This group interaction with students having different knowledge levels is helpful in escalating your learning process.
USMLE Step 1 Preparation Plan for Students from USA and Whole World
We provide both live and online classes for USMLE Step 1 preparation. Our Step 1 prep course includes Qbank and notes that you can review anywhere, anytime. We also provide USMLE Step 1 preparation plan, tips, secrets, tricks and useful resources (books, lecture notes, videos, flash cards, patient interaction etc) to all of our students. Students and can signup from New York, Houston, NYC, Chicago, Atlanta, Florida, Toronto, all across USA, Canada, India, Australia, Europe and all across the globe for our online step 1 preparation course.
Student Support and Stress Relief:
We provide unmatched student support through email and online video calling upon appointment. Feel free to discuss your progress, clarify your confusions and overcome your weakness with our expert doctors. We also provide stress relief for our students.